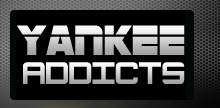 May 27, 2013 · Kenny DeJohn · Jump to comments
Article Source: Bleacher Report - New York Yankees
New York Yankees ace CC Sabathia is hurting the team, and he knows it. As the team's ace, he is expected to give his team the chance to win every time he toes the rubber. If he can't do this, can the Yankees still win?
Sabathia has been awful of late. He's 0-2 in May with a 4.85 ERA over 29.2 innings. He's allowed five home runs in five starts. His most recent poor performance—a seven-run walloping put on him by the Tampa Bay Rays on May 26—led to Sabathia making some interesting (though pretty obvious) remarks.
"I'm hurting the team," Sabathia claimed, via Wallace Matthews of ESPNNewYork.com . "I'm not helping the team out. I just need to get better."
By all accounts, Sabathia's right. In May, he has not been helping his Yankees win games. Overall, though, he hasn't been terrible.
He currently has a 3.96 ERA in 72.2 innings pitched. Those innings have not been easy for the big left-hander. Despite his respectable ERA, Sabathia leads the majors in batters faced (312). He has had issues keeping men off base this season, and that's not what you like to see from a team's ace.
Without Sabathia, the Yankees will struggle to win. Manager Joe Girardi has excelled in filling holes so far, plugging in presumably over-the-hill veterans into key spots in the lineup and watching them produce.
Other than that of Derek Jeter's, no hole on this team would be larger to fill than Sabathia's (both literally and figuratively). Sabathia isn't in line for a stint on the disabled list, but his production will have to be replaced by other pitchers if he continues to struggle. He's an ace for a reason, so it obviously won't be easy to do so.
The Yankees could find a way to win during the regular season. At this point in the season, rotations are already off and ace pitchers generally don't face each other every five days. Even a mediocre Sabathia is able to defeat the opposition's No. 3 or 4 starter.
It's in the playoffs that having a lackluster ace could make a difference. Facing each team's top three or four pitchers in every series would be difficult for the Yankees if Sabathia isn't pitching like an ace.
This isn't a knock on the other starters, but a playoff rotation of Hiroki Kuroda, Andy Pettitte and Phil Hughes is obviously much stronger if Hughes is replaced by a productive Sabathia. A rotation of Kuroda, Pettitte and Hughes likely wouldn't even get the Yankees out of the Wild Card Round.
For the regular season, though, these guys should be plenty good enough to lead the Yankees to 90 wins. If you figure even a mediocre Sabathia wins at least 12-14 games, then the Yankees are in great shape to reach that goal.
Kuroda has been otherworldly this season. He's 6-3 on the year with a 2.67 ERA over 60.2 innings. The 1.055 WHIP that he sports is by far the best mark of his career. Kuroda has given the Yankees quality innings start after start and has assumed the role of "ace" while Sabathia continues to struggle.
Kuroda has had a calming effect on the Yankees. It's easy to see why Brian Cashman and Co. pushed so hard to get him back after last season's 16-win performance. The defense is comfortable playing behind him and gives him the run support necessary to reward him with wins.
Hughes has been his usual inconsistent self, sometimes flashing signs of brilliance and other times getting chased from a game in the first inning.
He has a 5.51 ERA on the season. No matter how you analyze it, there's really nothing to love about his performance so far. His inconsistencies have been well-chronicled since his full-time debut in the starting rotation in 2010.
Keeping Hughes around for this season may be necessary given the lack of pitching depth on the roster, but there's no way he should be in the playoff rotation (should the Yankees get there). He's a liability on the mound, even though he has the potential to go out there and dominate.
Hughes' inconsistencies are why Sabathia is so important. Replacing inconsistency in Hughes with a stalwart ace in Sabathia is what can propel the Yankees' three-man rotation from the bottom to the top.
Pettitte is currently on the disabled list, something that's become common for the left-hander over the past two seasons. His next start will be No. 500 in his career, so it's clear that he's been around the block. Pettitte is an injury risk every time he goes out, but he almost always pitches well when healthy.
He has a 3.83 ERA and a 4-3 record so far this season. That type of production is perfect for a No. 3 playoff starter. All he needs to do is avoid injury.
David Phelps and rookie Vidal Nuno comprise the final two spots in the rotation. While we haven't seen much from Nuno thus far (he's only appeared in four games), Phelps has been a pleasant surprise in place of Ivan Nova.
Nova has returned from the DL, but Phelps' great showing has relegated Nova to the bullpen. As a starter, Phelps owns a 3.27 ERA over 33.0 innings. He's also turned himself into a strikeout pitcher, setting down 27 on strikes over that span. Phelps is turning into the starter the Yankees had envisioned, but I still don't know if I'd trust him in the playoffs.
Phelps made three appearances out of the bullpen in the 2012 playoffs and pitched to an 8.10 ERA. A year can make a world of difference, but those numbers are discouraging.
Michael Pineda is expected back sometime in the first half as well, but there's no telling what the Yankees will get from him. A healthy Pineda could help to mitigate the bad showing by Sabathia, but if he is rusty, it could just magnify the problems.
Sabathia is immensely important to the Yankees' chances of winning. His health and productivity are the difference between this team making the Wild Card and having a long postseason run.

The other pitching on the roster is talented, but not even Kuroda can match the potential production of the Yankees ace. A lot can happen over the course of the season, but New York fans can bank on another early exit from the postseason if Sabathia isn't right.
Read more New York Yankees news on BleacherReport.com