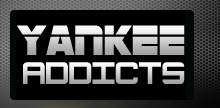 April 18, 2013 · Joe Giglio · Jump to comments
Article Source: Bleacher Report - New York Yankees
According to USA Today's Gabe Lacques, Derek Jeter had a CT scan that revealed a small crack in the area of his previous ankle fracture. After originally stating a goal of being ready for Opening Day, it's now likely that Jeter won't play again until after the All-Star break.
Despite a 1-4 start, his teammates are more than holding down the fort during their April schedule. At 8-5, New York has won seven of its past eight games, stabilizing its record and season.
While Jeter is coming off a renaissance in 2012 in which he led the American League in hits, his latest setback isn't likely to derail New York's hopes of staying afloat in the AL East and wild-card race this summer.
Heading into play Thursday afternoon, the Yankees are tied with the Atlanta Braves for 10th in baseball with 68 runs scored, tied with the Oakland Athletics for third in home runs with 20 and, maybe most importantly, they sport a team OPS of .814, good for third in the league.
The stellar starts from Kevin Youkilis (.931 OPS), Travis Hafner (.711 SLG) and Vernon Wells (.380 OBP) may not last through the summer, but reinforcements are coming at power positions in the lineup in the form of Mark Teixeira and Curtis Granderson.
Jeter was supposed to join that group next month, but will be on the shelf much longer.
Of course, Youkilis, Hafner and Wells aren't shortstops. Jeter's value isn't just his 3,000-hit bat, but the fact that his offense comes from the shortstop position. Historically, few shortstops have been able to provide offense like Jeter has. Furthermore, few, if any, of them continued to hit at the level Jeter did in 2012 at the age of 38.
The team may be able to survive and thrive through the summer while Jeter mends, but it'll have to do so without a shortstop that provides much, if any, offense.
Yankees fans were concerned with Eduardo Nunez's defense heading into the season, but it's his lack of pop and any semblance of high-end offensive production in the minor leagues that should have been more of a concern. He may develop into an above-average offensive player at the shortstop position, but that isn't likely to be in 2013.
Heading into play Thursday, using a combination of Nunez and utility man Jayson Nix, the composite performance of Yankees shortstops this season equaled a .606 OPS. That number is good enough for 21st in the majors.
To put that in perspective, the 2012 Yankees, with Jeter playing 135 games at shortstop, were fifth in the majors in OPS (.744) from the shortstop position.
As Jeter has stated over and over through the years, it's about pitching. For the 2013 Yankees to succeed, the starting pitching must deliver quality innings and the bullpen must close out tight games inside the AL East. Offense is crucial, but means little without consistently well-pitched games.
In 2003, during Jeter's prime, the Yankees lost him until May 31. Without its best player, New York played .618 baseball, led the AL East by a half-game over Boston and owned a plus-71 run differential when Jeter returned. That success was on the back of a pitching staff led by Mike Mussina, Roger Clemens and Andy Pettitte.
Most of the names other than Pettitte have changed, but the pitching will still be charged with carrying New York now.
There's little to suggest Nunez and Nix will make the Yankees offense as good as Jeter can, but adding a good offense to a deep, veteran pitching staff can keep New York afloat in the AL East without its captain.
Jeter is still a very good hitter, but not enough of a star in 2013 to override the value of pitching and his teammates.
Can the Yankees survive without their captain? Comment below, follow me on Twitter or "Like" my Facebook page to talk all things baseball!
Read more New York Yankees news on BleacherReport.com