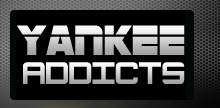 March 24, 2010 · Bryan Curley · Jump to comments
Article Source: Bleacher Report - New York Yankees
All good things must come to an end— unless you're Mariano Rivera, it seems .
Rivera once again enters 2010 as one of baseball's elite closers, even after turning 40 last November. He's had an ERA above 1.94 only once in the last seven years, and he's finished with a WHIP under 1.00 in four of the last five seasons. In the last 13 years, he's saved fewer than 30 games just once (28 in an injury-shortened 2002 season).
That kind of greatness is on par with Albert Pujols' nine straight .300/30/100 seasons. However, behind the historic consistency, there are some worrying trends developing.
Note: All stats are as of 2002, the first year these metrics were tracked.
Last season, Rivera's average fastball fell below 93.0 MPH for the first time (91.8). His cutter fell in velocity, too. It was the third straight season both pitches had decreased in velocity.
According to Fangraphs Pitch Values , his fastball was below league average for the first time since 2002. Despite this, his cutter was the second-best of his career.
His HR/FB rate doubled to 15.2 percent, but this is probably at least partly due to how the new Yankee Stadium played last season.
His 2009 opponents' line-drive rate was 21.8 percent, the highest it's been since 2002. That isn't due to the ballpark.
His 82.8 percent opponents' contact rate was also the highest it's been since 2002.
He had the lowest rate of pitches in the strike zone since 2002 at just 43.5 percent. It's fallen every year since 2006 and was well-below his 2008 rate of 51.4 percent.
Despite these trends, there is something to be said for all the years of success Rivera has had. Given both how impressive his Hall-of-Fame career has been and the quality of his out-pitch, it is safe to assume Rivera will remain among the game's elite in 2010.
As for 2011, we'll worry about that next year.
The baseball season is right around the corner. Check out Baseball Professor for fantasy updates, strategy, and personalized advice.
Read more New York Yankees news on BleacherReport.com