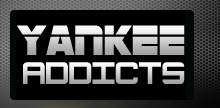 January 6, 2010 · Roy Levine · Jump to comments
Article Source: Bleacher Report - New York Yankees
Followers of the offseason Yankees are left this winter thinking about a single bench position, and Fernando Tatis just may be the player for the job.
Let's take a look at the probable roster:
They will carry 12 pitchers. These are the nine position players: C Posada (Switch); 1B Teixeira (S); 2B Cano (Left); SS Jeter (Right); 3B Rodriguez (R); LF Gardner (L); CF Granderson (L); RF Swisher (S); and DH Johnson (L).
For all intents and purposes, backup catcher Francisco Cervelli (R) and platoon outfielder Jamie Hoffman (R) have made the team. Total 23 players.
Cervelli is the low-budget, all-around catching sub for Jorge Posada at the moment, and A.J. Burnett will work with him.
The Yankees traded Brian Bruney for Jamie Hoffman, so we must assume that GM Brian Cashman and manager Joe Girardi are on board to give this right-handed corner outfielder every chance to stay on the roster. The Yankees must return Hoffman to the Dodgers if he does not make the team, and they cannot send him down to AAA Scranton under the Rule 5 Draft.
That leaves only two spots open on the 25-man active roster.
Let's look at the Yankees' needs for bench strength:
1. Pinch hitting for Cervelli when he starts— That will be Posada primarily, but if he is unavailable, this role should be filled by a left-handed bat
2. Pinch hitting for Gardner— Requires a right-handed bat with good OBP
3. Pinch hitting for Granderson— Requires a right-handed bat with good OBP
4. Catching for Cervelli if Posada cannot go— rely on shuttle from Scranton?
5. Emergency backup catcher for when Posada enters games that Cervelli starts— Punt.
6. Playing 3B, SS, 2B when starters get a day off— Requires reliable utility man.
7. Occasional substitute for Teixeira— Nick Johnson
8. Playing OF in place of Swisher, Gardner, or Granderson— That's Hoffman
9. Pinch Runner for Posada or Johnson— That's the middle infielder utility man
Obviously, this list cannot be entirely filled by two players.
One of the players must be the generic good-glove, occasional-hit middle infielder. The Yankees have four candidates from their own low-budget farm team resources. We will see Reegie Corona, Kevin Russo, Eduardo Nunez, and Ramiro Pena in Tampa during spring training. Any one of these four players could go north with the team, and all of them can pinch-run.
I like Kevin Russo. He is a pretty good middle infielder who can steal bases and is the best hitter of the bunch. Ramiro Pena earned a lot of fans playing this role last year as well. Russo and Pena can also steal a base. (Remember, Brett Gardner is no longer available for that role.)
It seems to me that the most important remaining role on the Yankees remains a right-handed pinch hitter who can get on base and replace Gardner and perhaps Granderson in key at bats when a situational lefty (LOOGY) is brought in.
My vote is Fernando Tatis. Although a natural third baseman, since 2006 the Orioles and the Mets have converted him to an infield/outfield utility man.
Tatis' line on the 2008 Mets was .297 BA/.369 OBP/.484 SLG/.853 OPS. In 2009, the line was .282/.339/.438/.777. Somewhat off, but not bad for a role player.
His fielding numbers are good enough for a player who does not have the luxury of focusing on any single position. I think he has the maturity for the role of an off-the-bench player as well.
Last year, Tatis had a .822 OPS against left-handed pitching, which is the primary reason to sign him. He can pinch-hit for Granderson or Gardner in crucial spots against LOOGYs and finish the game in the outfield.
I accept Cashman's comments that he is comfortable giving the left field job to Gardner. The Yankees are looking for a role player now. The best out there is Fernando Tatis.
Read more New York Yankees news on BleacherReport.com