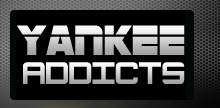 December 6, 2011 · Brian Buckley · Jump to comments
Article Source: Bleacher Report - New York Yankees
In spite of their pitching, the 2011 New York Yankees won the American League East Division and reached the playoffs. With CC Sabathia acting as the team's pitching anchor, the rest of the rotation swung back and forth with pendulum-like consistency. For the most part, the team is set with its offensive prowess, making pitching the top priority this offseason.
One of the most talked about pitching free agents is left-handed starter C.J. Wilson. During the past few years, Wilson has broken out as a durable and successful starter in the American League.
In a lackluster free agent class, he is pursuing superstar like attention.
Unfortunately for Christopher John Wilson, Yankee General manager Brian Cashman is not a dense man.
Cashman did reach out to Wilson's agent in early November, but he likely sees the red flags and knows an ill-advised pounce for Wilson could hurt the club for years to come.
These are the reasons C.J. Wilson would be a horrible fit for the New York Yankees.