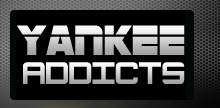 May 8, 2009 · Todd Farino · Jump to comments
Article Source: Bleacher Report - New York Yankees
OK everyone it is time to hear from Jesse Schwarz again. I'm sure you all remember Jesse, he wrote a couple of great articles for Fighting Chance Fantasy a few weeks back, one on underrated players, and one on overrated players. You can find them in the Featured Posts section on the FCF homepage. This time it is the always popular Buy Low, Sell High that Jesse will cover for us. So sit back, relax, and enjoy the article. Be sure to drop him some feedback, we always love to know what you think.
Buy Low
Matt Holliday, OF, OAK. Matt Holliday is one of the more established power hitters in the bigs, yet one month into the season he has only hit four home runs. His owner, who drafted him to help dominate the home run category, is probably scratching his head and starting to have major concerns about the outlook for Holliday in '09. Many people feared going into the season that the move away from Coors Field would hurt his power numbers, but I believe that it's not the ballpark hurting Matt right now, it's something else. You see Holliday is one of those rare right handed hitters who actually demonstrates more power vs. RHP than he does vs. LHP. Forty-one of his first 101 AB have been against southpaws and 60 against righties, which is an unusually high percentage of left handed pitchers to face. In fact, he has already had 33 percent of the at-bats vs. lefties than he had all last year. This obviously has not helped a guy who has hit 108 of his career 131 home runs against righties. So, if you own Holliday hold on tight and the homers will come as he gets more at bats vs. righties. He has heated up as of late hitting four homers and nine RBI in his last eight games. If you don't have Holliday, try to convince his owner that the move away from Coors truly killed his power value. Holliday is just too good to not improve, he is a perennial .300/30 /100/100 guy and this year will be no different.
Cliff Lee, SP, CLE. Much like Holliday, Lee came into the season with many question marks of whether or not he could repeat his Cy Young caliber performance of last season in 2009. His critics are beginning to have their predictions legitimized as the 30-year-old southpaw has started 1-4 with a not so fabulous 3.94 ERA. However, since Lee's first two ugly starts he has been just about as good as the 2008 version, but still not racking up wins. Six innings, one earned run vs. the Yankees, eight innings, two ER vs. the Royals, eight shutout innings vs. the Red Sox, and seven innings with three ER vs. the Tigers. All four have been quality starts, but he has only received a win in one of them (vs. NY), and in the other three outings has received but two runs in support. I have full confidence that Lee will be one of the top ten fantasy pitchers this year.
Mark Teixeira, 1B, NYY. There may be no better buy low candidate right now than Mark Teixeira. It seems like we say this every year after he struggles in April, and then every year he turns it around by blowing us all away later in the season. I think this will be a classic Teixeira season. Despite wrist problems Tex has managed to hit five bombs thus far which is better then his usual April average. Out of Teixeira's 208 career homers only 22 have come in the month of April. Also A-Rod is just days away from returning and hitting in front of Tex in the Yankees lineup. This guy is going to be BIG this year! I'm talking 35-40 home runs and 120-plus RBI. Try snatching him from an inexperienced owner who is unaware that a quiet start is normal protocol for Tex.
Others to consider: Scott Baker, Francisco Liriano, Alex Rios, Adrian Beltre.
Sell High
Kosuke Fukudome, OF, CHC. The 32-year-old Japanese import is currently hitting .300 with four homers with 15 RBI to go along with 16 runs scored. So far Kosuke has already hit 40 percent as many homers as he hit last year, 25 percent of the RBI, and 17 percent of the runs, all in just 4 weeks. If you think he can keep it up go ahead and hold on to him, but if you listen to my advice now is a better time than ever to cut bait. If you remember last year Fukudome also got off to a nice start hitting .305 in April. But what you might not remember is his batting average steadily dropped every month for the rest of the year, finishing with a .217 BA after the All-Star break. I think a similar pattern will appear this year and by mid-July you will be asking yourself why the Fukudome didn't I trade this guy in May?
Raul Ibanez, OF, PHI. Don't get me wrong, Ibanez is a solid player. Over the past three seasons he has been a consistent 100 RBI producer who can hit in the .290s with 20 home runs. He should be a reliable source of fantasy goodness all year, but he really only has one way to go and that's down. The .347 batting average is sure to find its way back to earth eventually, along with his other numbers. He is currently on pace for around 50 homers and 140 RBI. Let me just tell you that's not happening. If you are content with 25 home runs and 100 RBI then hang on to Ibanez, but if I was you I would trade him for a younger player with more upside. Ibanez is 36, and you want to target a 27-year-old stud that can really help you win it all. Most owners will give up way too much for guys like Ibanez that are playing out of their minds.
Rich Harden, SP, CHC. Harden has been pitching well this season, picking up four quality starts in his six outings. The other two starts have been just awful. Each time, Harden was unable to make it out of the third and allowed four and five runs. But the good news for Harden is he has dodged injury and showed no signs of getting hurt. Well just wait. It's only a matter of time before Harden goes down with some nasty injury that keeps him out for months. Now, you can never predict that someone is going to get hurt, but for a guy who averages only 92 innings per season over his seven-year career the odds are on your side. He is pitching well enough that you should be able to trade him for a more durable pitcher.
Others to Consider: Jason Marquis, Orlando Hudson, Carlos Pena, Michael Young, Mike Lowell