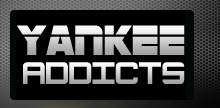 April 26, 2010 · Mike A · Jump to comments
Article Source: Bleacher Report - New York Yankees
Yankee Stadium will always be the baseball capital of the world.
It separates itself from the pack in so many ways: roll call, history, noise, and most of all, Monument Park.
Being carved in Yankee stone is an honor that rivals the Hall of Fame.
Only 25 Yankees (26, including Jackie Robinson) have found their faces on Baseball's Mount Rushmore, but that number is sure to grow.
Babe Ruth, Mickey Mantle, Yogi Berra, Lou Gehrig, and Joe DiMaggio are just a few of the legends carved into Yankee history.
So now lets take a look at the current Yankees most deserving of this illustrious honor.
The Case For…
Derek Jeter
This one shouldn't take too much of an argument.
Jeter might as well start deciding whose monuments he would like his to rest beside, because if he doesn't get a monument, then I quit being a Yankee fan.
The Yankee Captain is nothing short of the man in New York and always will be.
Finding a Yankee fan who doesn't like Jeter is about as hard as finding a Ranger fan who doesn't like Mark Messier.
I guarantee a monument for Jeter.
Mariano Rivera
Much like Jeter, Rivera is about as sure to get a monument as the sky is blue. He was the key player for so many of their championship runs.
When he took the mound in a playoff game, it was literally over.
He was no slouch in the regular season either.
Rivera is the greatest relief pitcher in baseball history and one of the best clutch performers in sports history.
If he doesn't get a monument, then I will personally drive to Yankee Stadium and destroy every monument in the park, because nobody is more deserving than Mariano Rivera.
Andy Pettite
Here's where it gets interesting.
Pettite was never a bona fide ace, but he was certainly the best pitcher the Yankees had on some of their championship teams.
He is the all-time leader in playoff wins for a pitcher and has been a key contributor on several championship teams for the Bronx Bombers.
Pettite has spent all but three of 16 MLB seasons with the Yankees and has strung together two 20-win seasons.
I think Pettite will one day be awarded with a monument. His stats haven't been dominant, but his role on the Yankees during their great run in the late '90s is unquestioned.
Pettite has a handful of World Series rings, and in the end, I think that's what will push him over the top for a monument at baseball's cathedral.
Jorge Posada
Enter "Core Four" member No. 4—the often overlooked Jorge Posada.
Posada has been providing the Yankees with an above-average offensive catcher for quite some time—which is always a competitive edge in the revolving door that is the catcher position.
Being able to catch for as long as Posada has and barely lose a beat is greatly impressive.
Much like Rivera, Pettitte, and Jeter, Posada was a key contributor to the Yankees dynasty of the late '90s.
It's clear that Jorge Posada has never been an elite hitter, but he's been a pretty damn good one for a long time.
It pains me to say it, but in the end, I don't feel Posada will be joining his longtime teammates in Monument Park.
He does, however, still stand a great chance, because if Pettitte, Jeter, and Rivera were all to make it, it would be tough for the Yankees to leave out the Core Four's valued fourth member.
Alex Rodriguez
You knew it was coming.
Although he hasn't spent his whole career in New York, it becomes more and more obvious that Alex Rodriguez will be remembered as nothing but a Yankee.
He is now in his seventh season as a Yankee and has gone deep 240 times since his debut in 2004.
He got the ring out of the way and his persona alone could earn him a spot in Monument Park.
It's no lie that the name Alex Rodriguez will be a tough one for the Yankee front office to turn down when it comes up in monument conversation.
You can bank on the fact that Alex Rodriguez will one day be among the greatest to ever wear pinstripes.
C.C Sabathia
I know it's early, but from the looks of things he could be at the helm for another Yankee dynasty.
He's locked in for seven years, and you better believe they'll be seven good ones.
This Yankee team has all the makings of a dynasty.
If they do, in fact, run the table in baseball for another long stretch, you'd have to imagine that C.C would be one of the top contributors.
It is, of course, way to early to judge his Yankee career, but if last season is any indicator, we could be looking at the next Yankee great.
I can't tell you that C.C will be dominant for the next seven years.
But I can tell you, he's a been a Yankee for one year and has one ring, and that's a pretty damn good start.
Read more New York Yankees news on BleacherReport.com