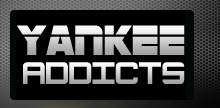 June 13, 2009 · Scott Alfano · Jump to comments
Article Source: Bleacher Report - New York Yankees
A.J. Burnett has struck again.
Following the Yankees' seventh walkoff win this season, A.J. Burnett pied the man responsible for the win, Luis Castillo.
Friday night, the Yankees were down by one with two on and two out in the bottom of the ninth. Alex Rodriguez, known for his performance in clutch situations, came to the plate and hit a routine pop fly to Castillo.
However, rather than putting the game away, Castillo instead let the ball bounce off his glove and hit the grass. Both runners scored, and the Yankees took the game.
While the majority of Yankees could be seen celebrating at home plate following their improbable win, one camera caught a swift A.J. run to his locker for a pie out of the collection he keeps in the back of his locker, run out towards right field, and absolutely wallop an unsuspecting Castillo in the face.
When asked why he did not pie Alex Rodriguez following the win A.J. responded, "A-Rod? I might as well pie Chad Curtis while I'm at it. We couldn't have won tonight without Castillo's help."
Burnett's move was unprecedented, as it was the first time a player got pied in the face by the opposing team since Leon Lett in Super Bowl XXVII in 1993.
When asked for his reaction, Castillo looked down at his feet, then looked back at the camera and responded, "I'm just honored to be a part of the rich history of the New York Yankees. Now I will finally be remembered in Yankee glory among the names of Ruth, Gehrig, Mantle and Melky Cabrera for their ability to give the Yankees the win in the clutch."
Later, Castillo was seen talking to John Sterling to coordinate times to film his Yankeeography.
K-Rod couldn't be reached for comment following blowing his first game of the season.