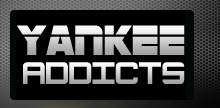 May 4, 2009 · Gregory Pearsoll · Jump to comments
Article Source: Bleacher Report - New York Yankees
It has been a very rough season for the Yankees, as they, with their offense, have managed a modest 13-11 record, third in the AL East.
Unfortunately, despite their offense, the Yankees have badly struggled with the starting pitching and the bullpen.
Some of the evidence shows in the rotation:
Chien Ming-Wang: 0-3, 34.50 ERA, on DL with a foot injury.
C.C. Sabathia: 1-3, 4.85 ERA
A.J. Burnett: 2-0, 5.40 ERA
These three starters have dragged down the Yankees, with their underperformance. Wang's is understandable due to the foot injury suffered in Houston last season, but Sabathia and Burnett's performance is inexcusable for all the money the Yankees paid.
Sabathia's underperformance is mostly due to overuse in Milwaukee, along with control issues, as he leads the team in walks, with 15. He also is prone to command issues as well, with a .262 batters against average, which is not healthy for a starter.
A.J. Burnett's troubles are no surprise. Despite winning 18 games in 2008, he did it with a 4.07 ERA, mostly helped by Toronto's strong defense. Another problem for Burnett is control, as he has given up 6 HR and 13 walks already. When hitters hit off of him, there's trouble for him, as he currently has an ERA of 5.40.
Worse, because of the problems with the starting pitching, the bullpen has been worse. Some of the follies in the bullpen include:
Damaso Marte: 15.19 ERA, on DL.
Anthony Claggett 43.20 ERA, called up due to Marte's injury (very questionable, considering Steven Jackson's AAA numbers).
Jose Veras: 8.03 ERA
Edwar Ramirez: 5.40 ERA
John Albaladejo: 7.30 ERA
There have been some positives, such as Phil Coke and Mark Melancon, but their roles are unknown due to Joe Girardi's intention to use Veras, Ramirez, and Albaladejo.
Part of the reason they haven't fallen below .500 has to due with the offense and good young pitching such as Phil Hughes, Joba Chamberlain, and the usefulness of Andy Pettite. How long this continues is questionable, due to innings limits on the Yankees' young starters.
As for the bullpen, few options are available in AAA, as Brett Tomko would have to have his contract purchased just to be called up, costing a young unproven pitcher in AA or AAA his 40-man spot, as the 40-man is full. There is also no will to use Steven Jackson either.
As for Phil Hughes, he won't last here because once Chien Ming-Wang comes back, Hughes will go to AAA because of the poor roster construction of the Yankees, and the will of the team to use Joba Chamberlain as a starter, rather than a set-up man, which would partially help the Yankees' beleaguered bullpen.
How long the Yankees sustain their record depends on what happens with their bullpen and starting pitching.