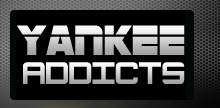 February 4, 2012 · Mike Chiari · Jump to comments
Article Source: Bleacher Report - New York Yankees
A tumultuous offseason for New York Yankees general manager Brian Cashman has gotten worse as his wife, Mary Cashman, has filed for divorce in the face of her husband allegedly engaging in an extramarital affair, according to the Associated Press.
The woman with whom Cashman allegedly had an affair, Louise Neathway, has been charged with stalking and extortion as she reportedly was blackmailing Cashman for thousands of dollars in exchange for keeping the affair a secret.
The Associated Press is also reporting that Cashman and his wife have been separated and living apart for a year. With spring training quickly approaching, Cashman will need to find a way to put this situation behind him and focus on baseball.
Cashman has been the Yankees' GM since 1998 and has won four World Series during his time in that post. He has certainly come under fire at times since the only acceptable result in New York is winning it all, but he has been largely successful.
The Yankees' 2012 offseason started off quite slowly, but Cashman ultimately made it a good one. He dealt catcher prospect Jesus Montero to the Seattle Mariners for young fireballer Michael Pineda. On top of that, he inked Japanese starter Hiroki Kuroda to further bolster what once looked to be a weak starting rotation.
New York disappointed in the playoffs last year as it fell to the Detroit Tigers in five games in the American League Divisional Series. The Yanks last won a World Series in 2009, but thanks to a much-improved pitching staff and a great offense, New York will be one of the favorites in 2012.
The 44-year-old Cashman signed a three-year extension with the Yankees in November 2011, and there has been no indication that his current situation will have any effect on his job standing. Even so, this can't be the way Cashman wanted to start the season.
When it comes to athletes or those involved in sports having off-the-field issues, they usually go one of two ways. They either let their personal issues affect their job performance and fail, or they use their job as an outlet to escape and excel even more.
The Yankee organization is obviously hoping that Cashman will fit in with the latter group rather than the former. It isn't as if Cashman needed any more attention since he already works in the New York market, so this will certainly test his mettle in a lot of ways.
Read more New York Yankees news on BleacherReport.com