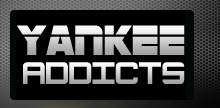 April 27, 2009 · Rob Abruzzese · Jump to comments
Article Source: Bleacher Report - New York Yankees
According to Marc Carig of The Star-Ledger, Yankees relief pitcher Brian Bruney blamed his shoulder injury on his workload between his appearances.
When he's throwing bullpens or side sessions while keeping himself sharp between appearances, he'll throw a certain pitch over and over if he believes the pitch isn't executed just right. There is a price, however, to throwing so many pitches, which is why Bruney figures he's landed on the disabled list with a muscle injury in his right (throwing) elbow.

"I think there needs to be a little bit of trust in certain pitches, that they will be there," he said. "I don't need to sit there and throw them 15 times, 20 times in the bullpen."

That's been the message repeated by coaches in the past, the latest being Yankees bullpen coach Mike Harkey. And it's advice that Bruney, the Yankee's top reliever aside from Mariano Rivera, has been hesitant to accept. Until now.

"If something doesn't work well, I'm going to sit there and work on it, work on it. I end up throwing so much," Bruney said. "It's something I've always done. But you know what? Now it got me and now I know what they're talking about. Now, we're going to change the routine and throw a little bit less."

"I think it's my fault. I think I throw too much in the bullpen and on the side," Bruney said. "Anytime you have a relatively high workload, I can't do that. I think this is my fault and I've got to make the corrections."
It would be easy to accuse Bruney of doing something wrong here and blame the injury on him, but I find it hard to fault this guy as far as his work ethic goes. He went from being released by the Arizona Diamondbacks to a strong setup man in one of the toughest divisions in baseball.
He didn't do it overnight though. He's worked very hard and committed himself as evidenced by his on the field performance and the fact that he's done a 180 as far as his physical appearance is concerned.
He does need to realize that his tough workload is putting him at a slightly higher injury risk. Hopefully he learns from this and comes back and is more of a complete pitcher.
The Yankees need him back, but hopefully he takes the rehab slowly. Four and a half months of a healthy setup man is more important than the handful of games he might miss while he rehabs.