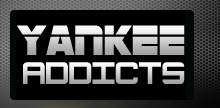 May 16, 2009 · Heartbeat Of The Bronx · Jump to comments
Article Source: Bleacher Report - New York Yankees
The only running Yankees outfielder Brett Gardner was anticipating on Friday would occur during pregame warm-up activities.
Perhaps he would get the opportunity to pinch run for Alex Rodriguez or Hideki Matsui; the pair of damaged goods in New York's struggling lineup.
Gardner had recently visited with Nico Viglitti (pictured above) before the game along with 15-20 other children, brave patients at a nearby children's hospital.
According to multiple reports, one child gave Gardner a lucky bracelet, which she said would give him the power to hit a home run.
Gardner specified that it would allow him "to hit a home run in every at-bat," which he admitted was slightly unrealistic.
The bracelet had the courage and strength of a sick little girl flowing throughout its threads, but unless divine intervention allowed him the chance to use it, this story would not have a Hollywood ending.
Shortly after the game's first pitch, the stars all began to align; ensuring that something magical would manifest itself in the team's new home.
After a first inning strikeout boiled his blood, Johnny Damon took protesting to a whole new level after a second consecutive backwards 'K.'
Damon initiated a legendary tirade, one that would have made Billy Martin and Lou Piniella swell with pride. He was banished to the showers so quickly that manager Joe Girardi had not yet emerged from the top step of the dugout.
As a result, Gardner "coincidentally" received his chance to make a young girl smile back in her hospital bed at New York Presbyterian Children's Hospital in Manhattan.
The supernatural aura surrounding the stadium knew to conserve its magic until the time was right, though the bracelet did produce a quick fifth inning single for Gardner in his first at-bat of the night.
Once again, however, it appeared that the mystic spirits of "The House that Ruth Built" had taken the night off.
New York trailed 4-1 in the seventh inning, and were eagerly awaiting a spark.
They welcomed a spark from anything in the stadium, anyone on the bench, any…entity watching from above?
Gardner stepped to the plate with just one home run in his Major League career, much more apt to "run home" than to launch a "home run."
There was more than simple grit and determination involved here, and nothing else mattered aside from destiny and God-given speed.
Gardner could not hit a conventional home run in order to turn tears and fears into a night to remember for one 9 year old girl.
Not on this night…not in this moment. Not while wearing a bracelet constructed with admiration, love, and hope.
A pitch from Twins reliever Jesse Crain was looped down the left-field line, conceivably nothing more than a single at best.
Once the ball touched the stadium's "un-hallowed ground," all rationality and baseball physics were replaced with a scene from Angels in the Outfield.
It kicked violently to the left, as if something had given it a little extra push. A bloop single had suddenly become a double…a triple…a home run?
As third base coach Robbie Thompson vigorously waved Gardner toward home plate, chills inevitably began to flow down the backs of each fan watching with baited breath from their seats.
Fans watching from home leaned forward in their chairs, their eyes growing wider and more awestruck as each fraction of a second ticked past.
The lightning quick outfielder dove into home safely to cut the score to 4-2, energizing an apprehensive fan base and tentative roster of teammates.
Gardner left his feet a Yankee utility outfielder, but crossed home plate an undeniable hero.
For the first time all season, the score did not matter. Gardner had done much more than put a run on the scoreboard or potential 'w' in the win column—he had renewed the faith of a child that needed it most.
The magical aura of the night began to spread throughout the Yankees dugout, as even the anemically insufficient Mark Teixeira contributed a clutch base hit.
Melky Cabrera delivered the walk-off miracle minutes later off world-class closer Joe Nathan, and the credits rolled on a tale almost too inspiring to be true.
You may not believe in divine intervention, karma, fate, higher beings, or the afterlife. You may not even personally invest in the phrase, "everything happens for a reason."
Regardless of what is perceived as true, real, or rational…there are at least two people on Saturday morning that are giving a wink and a smile to something up above.
It was an inspirational moment for a fearless little girl, and I hope she was watching.
Let's hope Gardner hangs onto that bracelet.
More importantly, let's pray this brave child hangs onto her rediscovered hope and faith.
Also seen at: Heartbeat of the Bronx