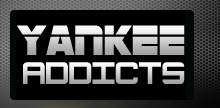 December 30, 2009 · Patrick Read · Jump to comments
Article Source: Bleacher Report - New York Yankees
Washington DC
By Patrick Read 
Brett Gardner was officially named the Yankee centerfielder last year after ripping the cover off of the ball in Spring Training—hitting .385 with three HRs—he edged out Melky Cabrera, especially in the category of speed.
Of Gardner, Joe Girardi said, "What happens April 6 doesn't necessarily mean that's what's going to be on June 1. Players still have to perform, but right now, we think Gardy has a little bit of an edge."
And he kept that edge over Cabrera.  
Hitting .275 through July 25, Gardner became the everyday centerfielder for the Yankees until he broke his thumb while stealing second base against the A's on July 26. He stayed in the game and still went onto rob Rajai Davis of a blooper by snaring the ball in a diving catch. 
Speed equals defense, and Gardner's speed in center field was attractive enough to earn him the position. 
Whether by racing back to the fences and making slamming catches against the wall, filling in the gaps in left and right-center, or snaring bloopers in short-center, the Yankees consider Gardner's defense an upgrade over Cabrera's.
And going into 2010, it is not a stretch to think that Gardner could be the starting centerfielder again, moving Curtis Granderson to left field, which would presumably be another defensive improvement over the play of Johnny Damon.
It's a simple matter of combination. 
The Yankees are said to be interested in re-signing Jerry Hairston or Reed Johnson to play left field. They have a limited budget and are reportedly out of the Matt Holliday sweepstakes. 
Would Hairston (or Johnson) in left field add a better dynamic than would Gardner in center?  Of the three, Gardner is more than likely the best outfielder, if for no other reason than because his speed alone sets him apart.
It comes down to this:
1) Hairston (or Johnson) in left field, Granderson in center, and Swisher in right.
or
2) Granderson in left field, Gardner in center, and Swisher in right.
Would Hairston or Johnson be an upgrade over Damon?  It's a given that Granderson would be.  It's also a given that he would be an upgrade in center too—but so would Gardner—who proved it last year by earning the position.
Yankee fans know that Granderson was initially signed to play center field, but there are reports that Granderson takes suspicious routes in center and may have a depth perception issue.
In the past three years he has had a .989, .989, and .993 fielding percentage in center field, while Gardner was a .990 last year and a 1.000 in 2007.
So the question is raised: What if the money the Yankees saved by starting Gardner in center allowed them to sign Aroldis Chapman? See his viedo here. Then would you be on board?
The Yanks are said to "have a couple of million to play with" and could raise another few million by shedding relievers Sergio Mitre and Chad Guadin.  Interestingly, shedding Mitre and Guadin would leave the bullpen a bit thin with room to add the power-pitching lefty from Cuba.
After all, isn't improving the defense with Granderson and Gardner—plus adding a better bullpen more ideal?
Many credit Phil Hughes' move to the bullpen last year as the reason for the Yankees second half success. 
And now the Yankees would be smart to build on the bullpen taking the sting away from losing both Brian Bruney and Phil Coke this offseason. Why sign an average outfielder, when Gardner could fill the role, better the defense and still allow New York to bid on Chapman?
The rumor mill has Boston in the lead with a bid on Chapman for three years and a total of $15.5 million. The Yankees could match that and add another year.
Who would be the back-up outfielder in case of injury? 
The Yankees did just sign Jamie Hofmann this offseason. No one would expect him to hit like Johnny Damon, instead he would just have to catch the ball.
And while in the minors, between big league appearances, switch-hitting Ramiro Pena got playing time in the center field for seven games and earned a perfect fielding percentage.
Pena could become the complete utility player this year, allowing Girardi to rest players in both the infield (as he did last year) and outfield. The kid can hit too. 
In 69 games last year, Pena hit .287—that's .287 in the most competitive league in the majors—in just his first year of play.
Of course the Yankees could also make a midseason trade as well.  Carl Crawford is in the last year of his contract and the Rays may look to unload him.  
If not another, then the Yankees could always sign Shelley Duncan to a small, one-year contract, but his swing would need some work.
Fan-favorite Duncan was a minor league All-Star last year, hitting .280 with 30 home runs.  He has made spot appearances in the majors over the last several years, but never really caught that one big-break solidifying his Yankee career.
The fact is, barring injury, it wouldn't matter too much who the back-up outfielder would be because the one dynamic that made the position so attractive last year would now be the starting centerfielder.  And Gardner's speed would be a big advantage when used in the whole game, instead of just in spot situations.
With Gardner in center and Granderson in left, the Yankee outfield is better defensively than it was last year—without question.
If New York is "out of the Matt Holliday race," then securing Aroldis Chapman should be next on their list.  By signing Chapman, the Yanks would easily be in the conversation for most complete pitching staff in the majors.
As Yankees fans learned last year, the bullpen matters. Adding Chapman to a Yankee relief rotation which already includes Robertson, Aceves, Hughes, Marte, and Rivera—is a clear improvement, while adding an average outfielder is only a shade of gray, especially when the Yankees already have Gardner, who can fill the role.
Read more New York Yankees news on BleacherReport.com