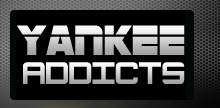 March 1, 2013 · Jake Singer · Jump to comments
Article Source: Bleacher Report - New York Yankees
Seven games into the 2013 Grapefruit League season, three Yankee players have emerged as the stars of spring training as the calendar turns to March.
It's important not to weight spring training statistics too heavily, since players are often facing different levels of competition than they normally do in regular season play and are focusing on specific skills when the games don't count, but these three players' numbers should make any fan excited to see them come April.
Gardner already had a starting outfielder job locked up when he came to Tampa but it was not a given he would be ready to return to action after missing most of 2012 with a wrist injury.
Instead, Gardner has alleviated any concerns by going 6-for-11 (.545) with a walk in four games.
His performance is even more important with Curtis Granderson out until at least May with a broken arm and likely taking over in center field. Gardner is now the last remaining starting outfielder from 2012 (Granderson is hurt and Nick Swisher is now on the Cleveland Indians) in a lineup already weakened by the losses of Swisher, Russell Martin (free agency) and Alex Rodriguez (injury).
The combination of coming back from injury and taking on a great role has put a lot of pressure on Gardner, but it's clearly not affecting him so far.
Brett Marshall
The Yankees' first six starters are set but the competition to see who would get the next shot is wide open. In fact, with Phil Hughes likely out to start the season, this spot could be critical if any other pitcher gets hurt.
With no clear candidate entering camp, Brett Marshall has emerged from the pack. In five innings, he's allowed just one run and two hits, walked one and struck out five.
The Yankees' sixth-round pick in the 2008 draft has made a slow and steady climb through the minors and has set himself up to start the season in Triple-A Scranton/Wilkes-Barre. If he continues his strong spring through March and the beginning of the season, he could be the next man up if another starting pitcher gets hurt.
David Phelps
Coming into camp, Phelps was set to compete with Ivan Nova to be the Yankees' fifth starter. He may have caught a break when Hughes went down with a back injury, opening up a spot for both him and Nova.
But he's still competing with Nova for when Hughes comes back and one must return to the bullpen and he's off to a strong start.
He's pitched five scoreless innings, allowing five hits, walking one and striking out one.
If he keeps throwing the ball that way, it's going to be hard to keep Phelps out of the rotation.
Read more New York Yankees news on BleacherReport.com