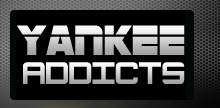 March 10, 2010 · Bronx Baseball Daily · Jump to comments
Article Source: Bleacher Report - New York Yankees
So Johnny Damon won't be playing in this afternoon's game against the Yankees because of turf toe.
Really? Is this news?
I guess it is compared to some other stories that have been out there over the past two days. Unless you think A-Rod's lawyers meeting with feds is a news story, but I don't.
Of course, there is the Nick Johnson hit two home runs in one game OMG he's the next Babe Ruth! Or maybe the Yankees should just pack in their season because CC Sabathia had a bad start in a meaningless game.
So with the season officially over, the Yankees should be working on those extensions with Derek Jeter and Mariano Rivera, right? Wrong. Because that story, which never was a story in the first place, is back in the news. YAY!
Don't fret though—there is one bit of news. Alfredo Aceves pitched yesterday, and now he's sore today. Since when do athletes get sore the day after they do something?
This is getting to be crazy.
I nearly forgot this one—my favorite story: Jeter + A-Rod = Love!!!
Related Stories
Read more New York Yankees news on BleacherReport.com