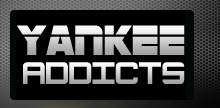 December 22, 2009 · Daria Del Colliano · Jump to comments
Article Source: Bleacher Report - New York Yankees
 The Atlanta Braves and New York Yankees reportedly agreed on a deal that will send SP Javier Vazquez and left-handed reliever Boone Logan to NYY for OF Melky Cabrera, rookie left-hander Mike Dunn and right-handed pitching prospect Arodys Vizcaino.
The Braves, who had an abundance of starting pitchers, had hoped to retain Vazquez's services and instead tried unsuccessfully for the past month to move veteran Derek Lowe.
But, in the end, they found no teams willing to take on Lowe's hefty contract, which still had three years and 45 million dollars remaining on the original four-year deal he signed with Atlanta last offseason.
The Yankees will pick up all of Vazquez's 11.5 million salary for the 2010 season.
Vazquez, who will be eligible for free agency next winter, enjoyed a career year for Atlanta last season, going 15-10 with a 2.87 ERA and 238 strikeouts in 219 1/3 innings pitched.
While Vazquez proved to be a valuable asset to Atlanta's rotation last year, the Braves felt comfortable enough with their depth at starting pitching to make this move in an effort to improve other areas of their club while also receiving increased financial flexibility.
The Braves rotation stood atop the National League last season with a 3.52 ERA.
Vazquez also had a no-trade clause to West Division teams which limited the pool of suitors Atlanta could engage in trade talks with about the right-hander.
Throughout his career, Vazquez has struggled in the American League often proving to be much more effective with National League clubs.
This will be Vazquez's second stint with the Yankees.
It comes as somewhat of a surprise that the Bronx Bombers would pursue Vazquez again.
He spent the 2004 season in pinstripes but posted an unimpressive 4.91 ERA in 32 starts with the club and was dropped from the postseason rotation.
In Cabrera, the Braves added a bat to their line-up but not the power hitter many had expected them to acquire.
In 2009, the 25-year-old switch-hitter posted a .274 average with 13 HR and 68 RBI in 154 games for the Yankees.
Cabrera, who primarily played center field for New York last season, has the versatility to play all three outfield spots and possess a strong arm and provides solid defense.
With Nate McLouth expected to start in center for Atlanta next year, Cabrera is likely to begin Spring Training in right field for the Braves, barring another move.
The highlight of the deal for Atlanta comes in prospect Arodys Vizcaino.
Vizcaino, 19, was recently rated by Baseball America as the #3 prospect in the Yankees organization.
Last season, Vizcaino went 2-4 with a 2.13 ERA and 48 strikeouts in 10 starts at short-season Class A Staten Island.
The third player coming over to Atlanta in the deal for Vazquez is left-handed rookie reliever Mike Dunn.
In four appearances with the Yankees last season, Dunn posted an inflated 6.75 ERA.
However, the 24-year-old lefty went 4-3 with a 3.31 ERA while racking up 99 strikeouts in 73 1-3 innings in the minor leagues in 2009.
He also had two saves in 38 appearances in AA and AAA last season.
This move appears to be a pre-cursor for other moves for Atlanta.
ESPN.com reports that the Braves have freed up approximately $9 million dollars with this trade after subtracting Vazquez's $11.5 million and adding on the estimated $3 million Cabrera will receive in arbitration this year plus figuring in the $500,000 the Braves will receive from the Yankees once this transaction is complete.
With the money saved in this deal, the Braves look to continue their pursuit of a power-hitting outfielder, first baseman or perhaps both.
Johnny Damon and Jason Bay were linked to Atlanta recently but both still figure to cost more than Atlanta is willing to spend.
The Braves may still opt to pursue free agent Xavier Nady, who could play the outfield or first base, and should come cheaply as he is recovering from his second Tommy John surgery.
Atlanta could also decide to make a trade involving an outfielder, maybe even the newly acquired Cabrera, for a better upgrade.
Dan Uggla remains a possibility for the Braves, who could shift him to first base, if needed.
Read more New York Yankees news on BleacherReport.com