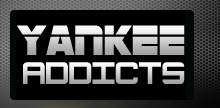 April 23, 2009 · Alex Potter · Jump to comments
Article Source: Bleacher Report - New York Yankees
The Boston Red Sox have been on a recent power trip. The team has exploded for 55 runs in the last seven games, including the dominant double-header versus Minnesota on Wednesday.
The next obstacle in way of Boston's run to the top spot in the A.L. East is the ever so annoying New York Yankees. Both teams are tied for the number two spot trailing the Toronto Blue Jays by 1.5 games.
All starters have been announced as of Wednesday and go as followed:
Game One – Friday 7:10 @ Fenway Park
Jon Lester (1-2) vs. Joba Chaberlain (0-0)
Game Two – Saturday 4:10 @ Fenway Park
Josh Beckett (2-1) vs. A.J. Burnett (2-0)
Game Three – Sunday 8:05 @ Fenway Park
Justin Masterson (1-0) vs. Andy Pettitte (2-0)
Now to preview game one starters.
Jon Lester
The ever so prominent lefty has had a great young career here in Boston; however, this season has started on the wrong foot. He has only lasted an average of six innings per start, which is not bad, but at the same time, his ERA is incredibly high at 5.50, while giving up 11 runs in 18 innings this season.
His last start versus the Orioles was one that settled him down, however, as the classic strikeout artist carved up nine Orioles over seven innings last Sunday afternoon.
Friday night is going to be one of the classic battles of whose starter will last longer. The Red Sox have today off and will rest their bullpen which is really not even needed, but will help the cause.
Joba Chamberlain
Joba is that young gun that the New York Yankees have in their rotation who, when consistent, could be thrown in with some of the best names in baseball. His fastball is one of the best in the game, and has been trying to master other pitches to make his outings effective.
His first start of the season was against the Kansas City Royals. Chamberlain was effective in his 2009 debut, but only lasted six innings, giving way to the dreaded New York Bullpen, a group that came in and ruined the start.
His second—and only other—start in 2009 was at Yankee Stadium versus the Cleavland Indians. He was absolutely horrific, allowing five runs on six hits while walking five in 4 2/3 innings.
Result
Red Sox will dominate this game, pitching wise, even though its not going to be easy. Joba Chamberlain will make an early exit as Jon Lester will last seven innings in a hard-fought victory for a much worthy youngster. The bats will stay hot for the Red Sox, and the long ball will play a major factor in Friday night's game.
Red Sox Win 6-2