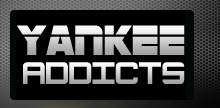 April 6, 2010 · Christopher Woodley · Jump to comments
Article Source: Bleacher Report - New York Yankees
A critical error by Boston shortstop Marco Scutaro helped to break a 4-4 tie as New York earned a 6-4 win over Boston Tuesday night at Fenway Park. Alfredo Aceves (1-0) pitched two scoreless innings to earn the win. Mariano Rivera allowed a double in the ninth, but earned his first save of the season.
With runners at first and second and two outs in the top of the eighth inning, Derek Jeter appeared to groundout to end the inning.
However, first baseman Kevin Youkilis was unable to handle Scutaro's throw from shortstop and Jeter was safe to load the bases. Hideki Okajima then walked Nick Johnson to force in the eventual game-winning run. Robinson Cano added an insurance run in the top of the ninth inning with a solo home run.
Boston opened the scoring in the bottom of the first inning off of Yankees starter A.J. Burnett. Jacoby Ellsbury blooped a single into left field to lead off the inning. After stealing second base and advancing to third on a throwing error by catcher Jorge Posada, Ellsbury scored on a Youkilis sacrifice fly. The Yankees immediately answered in the top of the second on an RBI double by Nick Swisher.
Boston broke the tie in the bottom of the third inning on a two-run home run by Victor Martinez. In the top of the fifth inning, the Yankees loaded the bases with no outs. After Mark Teixeira's RBI fielder's choice, Alex Rodriguez doubled to left to score Jeter. Cano's sacrifice fly gave the Yankees a 4-3 lead. Boston tied the game in the bottom of the fifth on an RBI double by Martinez.
Burnett earned a no decision by allowing four runs (three earned) on seven hits with five strikeouts and one walk. Five relievers combined to shutout Boston over four innings. John Lester also earned a no decision by allowing four runs over five innings. Okajima (1-1) suffered the loss by allowing one run in two-thirds of an inning.
New York and Boston will conclude their season-opening three-game series on Wednesday night. First pitch is set for 7:10 p.m. EDT.

Read more New York Yankees news on BleacherReport.com