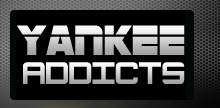 February 11, 2010 · Nathaniel Ballance · Jump to comments
Article Source: Bleacher Report - New York Yankees
Bleacher Report's own Lewie Pollis recently wrote an article comparing the Wins Above Replacement compiled by Boston and New York and the real difference between them. He split them into three groups—WAR by free agent signing, home-grown players and trade acquisitions.
His conclusion was the all too familiar one repeated mindlessly by millions of Yankee anti-fans.
New York buys their talent and championships.
As a Yankee fan, I'm used to this sentiment and have accepted it as a regular fact of life. People don't like that the Yankees spend money and they'll spin stats to prove that's the only reason the Yankees have been the most successful Major League franchise.
We all know teams never stay the same from year to year, so I decided to look ahead to the coming 2010 season and see what each team is going to look like.
Truth is, both the Yankees and the Red Sox have gotten some impressive production from players that they've brought up through their minor league system.
Boston's 2010 rotation consists of two homegrown players (Buchholz, Lester) one obtained by trade (Beckett) and two big-money free-agents (Lackey and Matsuzaka).
The New York rotation is identical. Regardless of whether Phil Hughes or Joba Chamberlain wins the No. 5 starter's job, the Yankees will begin the season with two home-grown pitchers (Chamberlain/Hughes, Pettitte), one obtained by trade (Vazquez) and two big-money free agents (Sabathia, Burnett).
The lineup however, is a markedly different story.
Boston's 2010 lineup runs out three (albeit very good) home grown players (Youkilis, Pedroia, Ellsbury), one obtained by trade (Martinez) and five free-agent signings (Beltre, Cameron, Drew, Scutaro and Ortiz).
New York's lineup consists of five home grown players (Jeter, Posada, Cano, Gardner, Johnson), three trade acquisitions (Granderson, Rodriguez and Swisher) and one free agent signing (Teixeira).
Some of this could be fudged one way or another, and we won't know for sure until the two teams meet on April 4 in Boston to open the season what the Opening Day lineups will look like.
Gardner seems to be the favorite for the most playing time in the outfield alongside Granderson and Swisher, but Randy Winn could force his way into more playing time with an impressive spring. Maybe even Marcus Thames pushes the envelope with some spring homers.
You could also technically look at Pettitte and Johnson as free agent acquisitions, but both players came up through the Yankee system and are nothing less than home grown Yankee talent.
With Spring Training yet to begin, it's much too hard to speculate what players the bench and bullpen of each team will consist of when the teams head north.
But both teams have a home-grown closer (Papelbon, Rivera), several home grown middle relievers (Bard, Delcarmen, Robertson, Aceves) one or two guys obtained via trade (Ramon Ramirez, Chad Gaudin) and one guy signed as a free agent (Okajima, Mitre).
Looking at last year, the Yankees received a ton of production from players they signed as free agents. But some of that value left when Johnny Damon and Hideki Matsui left town.
Brian Cashman spent the offseason working the phones and making trades that made perfect sense for the Yankees. They used parts of their team that were blessed with depth to address areas of need.
They got younger and more athletic. They identified a need to improve defensively and did that too. And they did it all without handing out a free-agent contract of more than $5.75 million.
The Boston Red Sox?
They handed out such contracts to Marco Scutaro, Adrien Beltre, Mike Cameron and John Lackey.
Since Brian Cashman has taken over baseball operations, the Yankees have moved away from the philosophy that saw them throw elite money at non-elite players. They now identify the players that best fit their needs and then go get them.
If that means contracts of $100 million or more so be it. They recognize the system that is set in place and operate in full accordance to it.
They were not the only team to offer Mark Teixeira an eight-year contract worth north of $150 million dollars. They were not the only team to offer CC Sabathia $100 million.
The Yankees certainly receive very valuable contributions from players they've signed through free agency. But to marginalize or negate the contributions they've received through players they've developed themselves or acquired through trades is ignoring a large facet of the game, and insulting to a general manager.
A MLB general manager must build a team using all three methods of obtaining players.
In the end, the only real difference between the Yankees and the Red Sox is the fact that one team was crowned World Series champions and one was not.
Read more New York Yankees news on BleacherReport.com