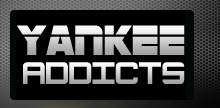 April 12, 2010 · Todd Kaufmann · Jump to comments
Article Source: Bleacher Report - New York Yankees
Fans are what makes this game great. The fans are what make the players try that much harder and they're the reason that the ninth inning is the most exciting inning in baseball.
They stand during big plays, they explode on a big strikeout or a go-ahead RBI.
Fans aren't always the same. They think differently, they react differently, and they expect different things, some more irrational than others. Fans expect their team to spend money, they want the best players regardless of the cost.
But we're not here to talk about what fans want, we're here to talk about the best fans in the American League, from top to bottom.
Bear in mind that this is my list and my opinion of the fan base in this league. There will be those that disagree and that's fine, it's what makes a debate that much more fun.
Just because your team isn't in the top five doesn't mean I'm personally attacking your team, it's just my opinion. So if you get offended, remember it's just a sport.