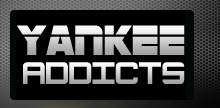 April 28, 2009 · Shanan H. · Jump to comments
Article Source: Bleacher Report - New York Yankees
Please, Bernie Williams, come back to New York City. You can play. You are in shape, and the fans will love you.
It will be very, very good for the organization.
You will help all of the outfielders improve their fielding.
Also, with a fight for the starting center field job, you will push youngster Brett Gardner, who is in need of a push.
Don't worry, we won't tease you for your noodle arm—compared to Johnny Damon, you have an Ichiro arm.
Bernie, even though you may not win the starting job, you will get plenty of time with all of the Yankees that are on the Disabled List.
You will also get some stints as a pinch-hitter.
Don't worry, the Yankee's coffers are still full of gold, you will be paid plenty for your service.
Bernie, do something for the team.
Help push the team.
Come back where you belong.
And you have to agree, even I, being a Sax player, think that playing a good game of B-ball is way more fun then pushing buttons and blowing.
So, Bernie, what will it be…The wellfare of the team you have come to know and love or you strumming a guitar and pushing keys on a sax.
I would choose baseball, Bernie, and you should, too.
For me, you, and the team:
BERNIE COME BACK!