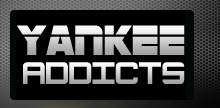 January 7, 2012 · Bill Ford · Jump to comments
Article Source: Bleacher Report - New York Yankees
Bernie Williams, one of the most loved Yankees by the fans, accomplished some impressive feats during his Yankee tenure. His success in pinstripes almost didn't transpire earlier in his Yankee years. Williams had become the regular center fielder in 1993. George Steinbrenner considered trading him in 1995, but Buck Showalter, the manager at the time, talked Steinbrenner out of making that giant mistake.
Steinbrenner was known as being controlling and difficult to approach. Thankfully, he listened to Showalter's advice about Williams.
Each year, the Baseball Writers Association of America votes by mail on eligible candidates for election into the National Baseball Hall of Fame in Cooperstown, NY. Bernie Williams is on the Hall of Fame ballot for 2012. Gaining 75 percent or more of the votes to get elected is not an easy task.
Looking back at Williams' career, I think that he put up consistently strong numbers and earned his place to become enshrined in the sacred halls of the National Baseball Hall of Fame.
Take a look at five reasons why he should be in the HOF.