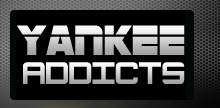 June 7, 2013 · Will Carroll · Jump to comments
Article Source: Bleacher Report - New York Yankees
"I have no news, nothing."
That statement to the media by Derek Jeter (via MLB.com) really says it all. For a player who once played himself on Seinfeld, this has become a season about nothing. Jeter's rehab from a fracture suffered in the playoffs last October has morphed into a secondary rehab from a re-fracture.
Time seems to be standing still, since that's about all Jeter can do at this stage. After all expectations were that Jeter would be ready for Opening Day, a late spring setback that figured to cost him a couple weeks has turned into one that has last months already.
Jeter re-injured the ankle on or near March 19, the last spring training game he was involved in, but Jeter and the Yankees have said repeatedly that they're not sure exactly when the injury happened. For the Yankees to have cleared Jeter to play, he would have had to show a near-complete healing of the bone, so there has been ongoing debate about whether this is a re-fracture or a new fracture at a similar location. No matter the technicality, the effect is the same.
Jeter is heading back to his specialist, Dr. Robert Anderson, next week. A positive visit there will put Jeter back to his pre-spring training workouts. Jeter could be ready for baseball activities as soon as a week to ten days post-clearance, but there's almost no chance that Jeter could get back as soon as the All-Star break, one of the past timelines the Yankees laid out.
Instead, Jeter is likely out until at least late July, assuming no additional setbacks. If the ankle/foot has been compromised so significantly or if Jeter has made some sort of unconscious mechanical change that led to the re-injury, it's possible he'll be facing the same risks this time. The Yankees rehab staff at Tampa will have to be very focused and deliberate, meaning he could be out into August.
That sort of timeline will put even more pressure on the Yankees. While they should get Curtis Granderson, Alex Rodriguez, Michael Pineda and Eduardo Nunez back before Jeter, the July 31 trade deadline could end up hinging on the medical status of The Captain.
Read more New York Yankees news on BleacherReport.com