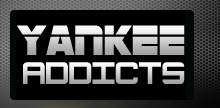 April 23, 2009 · Derek Hart · Jump to comments
Article Source: Bleacher Report - New York Yankees
In honor of the start of baseball season, I thought that it would be fun to compose a list of the greatest players of all time, according to team.
This list would not be merely about who had the best numbers, but also based on the historical significance that player had.
So now the time has come to discuss the greats of the American League, where the designated hitter was born; the home of different colored sox, green monsters, and guys in navy pinstripes that everyone outside of their city seems to hate.
Let's start with Los Angeles' so-called "other" team, the…
ANGELS – Located just up the street from Disneyland, this club has had a VERY strong, loyal, and red following this decade, winning their division nearly every year and their first World Series in 2002.
Guys like Garret Anderson and Tim Salmon have had the big numbers for these halos from Anaheim and were the leaders in their '02 triumph.
However, NOLAN RYAN is my choice here.
His "Ryan Express" 100 mile-an-hour blazer and four no-hitters during the 1970s put those Angels on the map, turning them from being mere stepchildren in the Dodgers' shadow to something to be reckoned with.
And he gave Gene Autry's franchise a badly needed face.
ATHLETICS – I'm picking two people from this franchise for this list: JIMMIE FOXX – "Double X" – from their Philadelphia days in the 1920s and 30s, and REGGIE JACKSON from their Oakland days in the 1970s.
Simply put, they put their versions of the A's on the map in their towns more than anyone, Foxx with his over 530 home runs and 1,900 RBIs and his lifetime average of .325, leading Connie Mack's A's to pennants in 1929, '30, and '31.
"Mr. October" did even more to establish Charlie O' Finley's A's in the East Bay, leading those mustached guys in green and gold to championships from 1972 to 1974, despite the fact that Finley was a cheapskate who treated his team like dirt.
The 1980s Bash Brother A's with Jose Canseco and Mark McGwire were cool and dominated the league in the latter part of that decade, but those 70s guys came first, which is why Jackson's my choice.
MARINERS – KEN GRIFFEY, JR. gets my nod as the greatest player ever in the home of Starbucks, grunge music, and that billionaire who started Microsoft.
This son of an ex-Big Red Machine member gave this Seattle team a face that desperately needed one, playing in that ugly carpeted monstrosity called the Kingdome. The fact that hit close to 400 home runs before he was 30 and made Spiderman-like catches in center field on a regular basis didn't hurt, either.
Some have said that he saved that franchise and kept them in the Pacific Northwest.
RANGERS – My choice here is unique in that he was also my choice on another team in this league: NOLAN RYAN.
After he signed with team at the end of the 1980s while already in his forties, he proceeded to throw his 6th and 7th no-hitters (more than anyone ever), reach an all-time record of 5,714 strikeouts, and give those Rangers a face that never really had one.
Indeed, it was known more as a place where you fried in 100-degree heat on a daily basis before Ryan got there.
Who better to put baseball in the Dallas-Fort Worth area, with their oil, longhorns, Cowboys, Cowboys Cheerleaders, and J.R. Ewing on the map than a man who personifies that Lone Star State?
He runs a huge ranch there today and is president of this team; how could I not choose him?
TIGERS – Lots of great players have performed in this Motor City, where cars are born (or at least were), and where Berry Gordy started his little record company with his buddy Smokey.
But when it comes down to it, only one guy deserves to be listed here: TY COBB.
Yes, I know he was a profoundly evil racist bigot who was probably the dirtiest player who ever lived; check out his movie starring Tommy Lee Jones sometime.
Despite the fact that he was the most hated man in baseball history, one cannot deny that he put those Bengal cats from Detroit on the map.
He had the highest batting average of all time at .367. He also had over 900 stolen bases and 4,191 hits, setting records that stood for a long time. And he was the first man elected to the Hall of Fame.
He may have been a real bad guy, but let's face it folks: He was a great, great player.
WHITE SOX – If it were not for that 1919 scandal where those eight Black Sox from Chicago's Southside threw the World Series for gamblers (check out the movie "Eight Men Out" sometime), SHOELESS JOE JACKSON would have been my clear choice for this list.
He had the third highest batting average of all time at .356 and was considered a tremendous five-tool player.
Not bad for someone who couldn't read.
Since he was in on that fix, however, I'll go with someone who was a longtime White Sock and a Hall of Famer who carried those Sox through the late 1940s and 50s as they were trying to recover from that disaster: LUIS APARICIO.
Harold Baines and Frank Thomas from the 80s and 90s were great too, but I just think of Aparicio more when I think of the history of those guys with the exploding scoreboard.
INDIANS – This one took some thought.
These people from Lake Erie's shores were, from the 1960s to the mid-90s, known more for their ineptness, their Chief Wahoo caricature, and that "Major League" movie than for any success they may have had, as well as that decrepit "Mistake By The Lake" of a park that they played in.
The man that does come to mind is someone who threw fastballs approaching 100 miles an hour when he was not even 18 years old, and even led Cleveland to a championship in 1948: BOB FELLER.
Not only was he a great pitcher, he also served his country with distinction during World War II, enlisting in the Navy and serving in the Pacific.
Sounds like a great American to me.
TWINS – If this organization were still playing in Washington, D.C., as they did before moving to Minnesota's Twin Cities in 1961, WALTER JOHNSON would have been my obvious pick. That "Big Train" won over 400 games and struck out over 4,000 people for what was frankly, a pretty bad team.
Since we're talking about the Minneapolis-St.Paul version of this franchise, I'm going with a guy who was the true heart and soul of that club, who led them to their 1987 and 1991 world championships: KIRBY PUCKETT.
A standout center fielder and clutch hitter, Twins fans will always remember that homer he hit to win Game 6 of that '91 Series, causing Jack Buck to say, "We'll see you tomorrow night!"
Puckett epitomized what baseball should be all about. That's why I chose him over guys like Harmon Killebrew from the 60s; Killebrew was a great slugger, but he never won a championship.
Puckett won two.
ROYALS – No one comes close here: GEORGE BRETT is my overwhelming choice.
A lifetime Royal with over 3,000 hits, batting well over .300 for his career, this guy was clearly the face of Kansas City and their ballpark with the outfield fountains during their glory years in the 1970s and 80s.
Like Rose, Bench, and Morgan, this third baseman was an icon of my childhood.
With the way these Royals have been playing the past two decades, finishing last almost every year, Brett could help this team now. It's quite sad the way their fortunes have gone.
At least they'll always have 1985 and the World Series that they won that year.
RAYS (FORMERLY KNOWN AS DEVIL RAYS) – This club's only eleven years old, but did a fantastic job in winning their first pennant last year, overcoming the fact that they're in the same division with two of the sport's quintessential franchises.
CARL CRAWFORD, one of their many good, young, and hungry players, is worth mentioning because he's been in Tampa Bay for quite a while now and suffered through the bad times, but needs a few more years of strong play before he could be considered the greatest (Devil) Ray ever.
The same goes for Evan Longoria, good as he is.
BLUE JAYS – I thought long and hard about who should be the greatest impact player that baseball's last link to Canada has had.
Guys like Dave Steib, George Bell, and Jesse Barfield gave this club its credibility in the 1980s, and those Toronto birds from Ontario Province did win back-to-back World Series in 1992 and '93.
Having said that, the man responsible for the greatest moment in Canadian baseball history when his home run off the Phillies' Mitch Williams won the 1993 Series, even though he was a free agent who didn't come up as a Blue Jay, will be added to this list: JOE CARTER.
ORIOLES – It was a VERY tough decision between BROOKS ROBINSON, the third baseman extraordinaire from the 1960s and early 70s who, along with Frank Robinson and Jim Palmer (the underwear ad guy), gave those birds from Baltimore their identity, and CAL RIPKEN JR., the shortstop who didn't do much at all, just break Lou Gehrig's unbreakable consecutive games record with 2,632 games played over 16 seasons.
Since both of these men epitomized and defined that Oriole franchise and the Bowieland area, I felt I had no choice but to pick them both.
RED SOX – This is one of the quintessential franchises in all of baseball, complete with an historical landmark of a ballpark and arguably the greatest fan base in American sports – the Red Sox Nation.
Some of the biggest legends have called Boston and Fenway Park home; Cy Young during their early days, Carl Yaztremski, Jim Rice, Fred Lynn, and Carlton Fisk with his homer in the 1975 World Series that he waved and willed to be fair.
Not to mention Roger Clemens in the 1980s.
Even guys like Manny Ramirez and David Ortiz should be mentioned for leading those Beantowners in 2004 to something that the club hadn't dome since 1918 – win a World Series and break the Bambino's "curse".
One man, however, eclipses all of those guys combined: THEODORE SAMUEL (TED) WILLIAMS – "The Splendid Splinter". Also known as "The Kid".
A flat-out genius in hitting, he was baseball's last .400 hitter – .406 in 1941. He was also a seven-time batting champ with a .344 lifetime average, the fourth highest in history. plus he had over 2,000 walks.
And on top of all that, he served his country with great distinction in two wars as a marine pilot, even having his plane get shot down in Korea.
By the way, he was a great fisherman, too.
YANKEES – Not only is this Red Sox enemy New York City's elite team, not only is this baseball's elite team, this franchise from the South Bronx is perhaps the elite franchise in all of sports.
This is a true dynasty in navy blue pinstripes that fans from outside New York love to hate; what other sports team had had a Broadway musical and a movie dedicated to their downfall, and has had films based on their stars?
Many legends have donned the Yankee uniform, from Lou Gehrig to Joe DiMaggio (the guy who married Marilyn Monroe) to Mickey Mantle and his buddy Roger Maris.
Even Derek Jeter should be mentioned here; he has kept the Yankee flame well.
And let's not forget the men who managed those legends, from Casey Stengel and his "Stengelese" to Billy Martin and his "Bronx Zoo", to even Joe Torre running the latest pinstripe dynasty in the late 90s.
However, great as these men all were, one man is the clear choice for the greatest Yankee.
This was a man who built the Yankee empire, so much so that the stadium they opened in 1923 was called the house that he built. He almost literally saved the game and brought fans back after that 1919 Black Sox Scandal, who many have called the greatest player ever: GEORGE HERMAN RUTH, JR. – "THE BABE".
Let's go over his numbers, shall we?
He hit 714 home runs, including 60 in 1927, outhomering all of the other teams in the American League that year, with a .342 lifetime batting average.
This former reform school kid from Baltimore was much more than statistics, though…
He was larger than life, the ultimate at burning the candle at both ends, partying like a rock star (or Lindsay Lohan) all night and blasting towering homers the next day. Kids loved him, not surprisingly since he was a big kid himself.
With all this in mind, how could I possibly not choose this legend?
There you have it folks, my list of the greatest baseball players of all time according to team.
Hopefully this was interesting and a bit thought provoking, perhaps even causing some debates. if nothing else, I hope this is a good way to commemorate our national pastime.
Here's to a great baseball season. Play Ball!