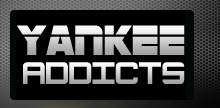 April 20, 2009 · Seth Doria · Jump to comments
Article Source: Bleacher Report - New York Yankees
In every sport, there's an element to the game that gets overlooked. In football, it's the special teams. In basketball, it's the guy who comes in for 10 minutes as a disruptive defensive stopper. And in hockey it's the … well, I don't watch hockey so I don't know.
But in baseball it's the bullpen.
I'm not just talking about the closers, who get the glory. I'm talking about the long man, the lefty specialist, the guy who you bring in with two outs and two on in a one-run game in the sixth.
These are the least appreciated, yet ultimately critical guys in baseball.
Take for example a few situations last week.
The Red Sox bullpen had to put in 10.2 innings on Tuesday against Oakland after Dice K Matsuzaka had to leave after just one inning due to "arm fatigue." Justin Masterson put up four shutout, allowing only two hits while striking out six.
Manny Delcarmen got five outs, then Ramon Ramirez got four, then Hideki Okajima got six, then Jonathan Papelbon got three, all of them without giving up a single earned run. It wasn't until Javier Lopez gave up the losing run in the bottom of the 12th that the Red Sox bullpen finally broke.
Final line: 10.2 IP, 1 ER, 6 H, 6 BB, 13 K and one very demoralizing L
And the Red Sox weren't the only team to put major pressure on their pens this week. Oakland needed seven innings out of theirs in the same game. Baltimore needed 8.2 innings out of theirs after starting pitcher Alfredo Simon left the game in the bottom of the 2nd inning due to right elbow discomfort.
And the Cardinals got 6.2 innings out of theirs when Chris Carpenter had to leave after three against the Diamondbacks.
And that was just Tuesday.
I decided to do a little research into the bullpens of the playoff teams over the last decade. That's 80 teams (three division winners and a wild card in each league over ten years). I figured that would provide a pretty good idea of what type of bullpens make the post-season.
Here's what I found:
Seventy-five percent (60 of 80) pitched fewer than 500 innings. To put that into context, the average total innings in the major leagues last year was 1,445 innings. So you don't want your pen going more than about a third of your innings, or three innings per game. That seems easy, but consider individual pens went five or more innings 26 times last week.
Only one team out of the 80, the 2005 Red Sox, finished with a bullpen ERA over 5. Fifty-one teams finished with a bullpen ERA under 4.00. (Only five have finished under 3.00, the lowest being the 2002 Braves at an astounding 2.60 ERA over 512 innings.)
Only four teams finished with a WHIP of 1.50 or higher (2007 Phillies, 2005 Braves, 2000 Cardinals and 2000 A's).
Only eight teams made it with a bullpen averaging fewer than 6.5 strikeouts per nine innings. Fifty-six teams finished with a K/9 better than 7.0 and 26 with a K/9 better than 8.0. Only three teams in the group went better than 9.0 K/9, the 2004 Angels (9.07), the 1999 Astros (9.36) and the 1999 Mets (9.40).
Only one team, the 2000 Cardinals, made it with a strikeout-to-walk ratio under 1.50. Forty-nine teams finished with a K/BB ration over 2.00. Only one, the 2006 Twins, finished over 3.00 at 3.26, 0.49 ahead of second place (2006 Mets at 2.79).
Taking those facts to this season:
Wondering how the heck the Marlins have baseball's best record at 11-1? Well of course the starting pitching and hitting are important. But how about a bullpen that gave up just one earned run in 25 innings last week?
Then there's the hidden reason behind the Blue Jays' rush to the top of the AL East. Pitching an AL-high 27.2 innings last week, the Blue Jays pen gave up just seven earned with as many strikeouts (21) as base runners allowed.
And there's the Padres bullpen (3.20 ERA) helping them stay respectable at 9-4, and the Mets bullpen overcoming bad starting pitching (Johan Santana exempted of course), giving up just two earned over 23.1 IP covering their last eight appearances.
And then of course there's the other side of the bullpen: The kind that comes in with the bases loaded and promptly gives up a grand slam (Yankees' Jonathan Albaladejo on Monday against the Rays).
Think what the Yankees' record might be if their bullpen hadn't allowed 11 homers already this season, tied for the league lead with Baltimore and Colorado.
Wondering why Tampa seems to stink again despite a killer offense? It might have something to do with a bullpen that's carrying around a 5.60 ERA and 1.78 WHIP so far this season.
What about those Angels? A bullpen with a baseball-worst 8.31 ERA is no way to go about winning your third consecutive division title.
And the Braves may have invested heavily in their starting pitching, but that's not going to help a whole lot when their pen is carrying an NL worst 7.36 ERA.
The bullpen may not make a club. You still have to have good hitting and quality starters. But a great bullpen can make a good team great, and a bad bullpen will absolutely kill any chances a team has to contend into October.
And so with that said …
Bullpen of the Week
It doesn't get much better than what the Marlins did last week: 25 IP, 1 ER, 13 H, 9 BB, 22 K, 0 HR, 4 W, 0 L, 2 S
Props also to the Red Sox pen for coming in when the team really needed them: 23.1 IP, 4 ER, 17 H, 8 BB, 0 HR, 1 W, 1 L, 3 S
Hitting Line of the Week
Ian Kinsler, Texas Rangers 2B: 6-6, 2 2B, 1 3B, 1 HR, 5 R, 4 RBI, SB against the Orioles on Wednesday
Second: Jason Kubel, Minnesota Twins LF: 4-5, 1 2B, 1 3B, 1 HR (GS), 2 R, 5 RBI
Third: Orlando Hudson, Los Angeles Dodgers 2B: 4-5, 1 2B, 1 3B, 1 HR, 3 R, 2 RBI
Three cycles in one week. Impressive.
Pitching Line of the Week
Zach Grienke, Royals, 9 IP on 111 pitches, 0 ER, 7 H, 0 BB, 10 K against the Rangers and Kevin Millwood, who also went the full nine.
The shutout extends Grienke's scoreless inning streak to 34. It was Grienke's fourth career complete game and first career shutout.
Bust of the Week
The Nationals
There are plenty of other candidates (Astros, Diamondbacks, Angels), but 1-10 says it all. The Nats are a horrible club and anybody who ever gives former GM Jim Bowden another job in baseball should immediately lose their own jobs.
Minor League Watch List
P Tommy Hanson, Gwinnett Braves (Atlanta Braves) Forget the 0-2 record. Hanson has allowed four earned in 14.2 IP (2.45 ERA) with 23 strikeouts to five walks. The dude has got the stuff.
3B Mat Gamel, Nashville Sounds (Milwaukee Brewers) Hitting .436 (17-39) with nine extra-base hits (6 2B, 3 HR) and 14 RBI. He's got a ridiculous .489 on-base percentage and an absolutely absurd .821 slugging percentage.
It's early, but I don't know how long the Brewers can leave this guy down on the farm. Bill Hall has reached his ceiling and started coming back down. It's about time Gamel took his place along side Ryan Braun and Prince Fielder in the new wave of Brewers greats.
C Matt Wieters, Norfolk Tides (Baltimore Orioles) Got his average up to .292 (7-24). The future starting catcher for the Orioles has a .414 on-base percentage, though he still has just one home run and one RBI.
P Chris Lambert, Toledo Mud Hens (Detroit Tigers) 8 IP, 0 ER, 1 H, 2 BB, 11 K, W against Louisville on Tuesday. Cardinals fans avert your eyes – this is the guy St. Louis gave up to acquire Mike Maroth in 2007.
The Golden Nuggets File
17. Translation to the Astros picking up the option on Cecil Cooper's contract for next year:
"Yes, we're ok with sucking."
16. Proof that you never get what you expect in baseball: Not only are the Mariners in first in the AL West at 8-5, they're doing it with pitching.
Seattle's hitting so far is among the worst in the AL. They're 11th in the AL in batting average at .256, 12th in slugging percentage at .363 and tied with Oakland for last in on-base percentage at .308. Ken Griffey Jr. is hitting .206. Adrian Beltre is at .200. Jose Lopez is at .195 and Kenji Johjima is on the DL.
But with a staff led by Felix Hernandez, Erik Bedard and Carlos Silva, and a bullpen that has yet to allow a single home run this season (the only team that can make that claim), the M's have the best team ERA in the majors by a significant margin at 3.01 (KC is next at 3.14).
15. Watch out for the Yankees once Alex Rodriguez gets back.
Mark Teixeira has shown that the New York stage is by no means too big for him, and Nick Swisher has proven to be a monster at the plate so far.
You add in A-Rod to that mix, with professional hitters Derek Jeter and Johnny Damon up top of the line-up and the speedster Brett Gardner at the bottom, and you have a recipe for a whole lot of crooked numbers.
The thing about the Yankees is that with everything that's gone wrong so far, they're still at 7-6. Once they figure out Chien-Ming Wang can't pitch any more and bring up Ian Kennedy (2 ER in 12 IP over two starts, 16 K to 2 BB) to take his place, everything should fall into place.
14. So this is what it's come to for Jeff Weaver:
Pitching for the Albuquerque Isotopes, the AAA affiliate of the Los Angeles Dodgers, Weaver pitched three innings in relief of Shawn Estes on Monday.
Bet you he never saw this point of his career coming.
13. He got pushed out of the pitching line of the week by Grienke, but Pittsburgh's Zach Duke pitched a hell of a game in his own right against the Astros on Monday: 9 IP on 119 pitches, 0 ER, 4 H, 2 BB, 5 K
This was Duke's fourth career complete game and his third shutout. It was actually his second shutout in six starts. His most recent came last September 5 at San Francisco.
12. Man, you have to feel for Chris Carpenter.
He finally comes back from two years lost to arm and shoulder injuries, pitches 10 scoreless innings to start the season, then pulls a muscle in his rib cage while hitting of all things. Hitting!
I'm letting my colors as a Cards fan show here a bit, but God damn. It's hard to take, made even harder because Carpenter is such a good guy. It's rough seeing him so dejected time and time again.
Cardinals manager Tony La Russa said Carpenter will miss at least a month, maybe up to two. From a competitive standpoint, St. Louis best pray that it's the shorter estimate. This is not a franchise stacked with major league-ready pitching prospects. Any prolonged absence may not be felt immediately (except on what would be his day to pitch), but it could have a disastrous cumulative effect.
11. Hell of a day for Chicago on Saturday:
The Cubs beat the Cardinals in extras on an Aramis Ramirez blast, the White Sox took out the Rays 8-3, the Bulls rode Derrick Rose to a win the series opener over the defending champ Boston Celtics, and the Chicago Blackhawks took a 2-0 series lead over Calgary with a 3-2 win.
10. So much for the Emilio Bonifacio-for-MVP bandwagon (not that there ever was one):
After rushing out to a great first week, Bonifacio finished week two mired in a 0-14 slump. He's struck out nine times over his last five games, including a 4-strikeout game against the Braves on Wednesday.
9. In a closely watched start against the Padres on Friday, Cole Hamels was again far from World Series MVP form: 6 IP, 8 H, 5 ER, 1 BB, 4 K, 3 HR.
But, if Charlie Manuel is to be believed, a turning of the corner should be in store in the relatively near future for Hamels.
"He definitely improved," Manuel said after the Padres game. "When he gets better command, he'll be all right."
8. So how many games are the Royals going to let Kyle Farnsworth lose before they realize that signing him was a huge mistake and cut him loose?
The Royals bullpen has three charged losses this season. All of them are by Kyle Farnsworth, the latest on Sunday when he gave up a walk-off home run to Texas' Michael Young in a 6-5 loss.
Royals GM Dayton Moore has done a pretty good job building this franchise back into respectability, but giving Farnsworth nearly $10 million over two years was not one of his better moves.
7. It's probably worth noting that Jason Marquis, scorned into oblivion by Cardinals and Cubs fans, has pitched two gems this season: 7 IP, 5 H, 2 ER, 2 BB, 2 K, W against the Phillies at Coors and 7 IP, 5 H, 1 ER, 2 BB, 3 K, W against the Cubs at Wrigley.
He's out-pitched Cole Hamels and Rich Harden and shut down two of the most explosive offenses in the league from last year.
Will it last? I have my doubts. But you have to give him credit for two very good starts.
6. While on the topic of former Cardinals, how about some love for Padres second baseman David Eckstein?
A fan favorite everywhere he's played (Anaheim, St. Louis, Toronto; well, maybe not Toronto), Eck was a key in the Padres' Monday victory over the Mets in the first game at Citi field. He had two doubles among his three hits, drove in two and scored a run.
On the season, Eckstein is hitting .311 with a .373 on-base percentage and .422 slugging percentage. And that's not to mention the very decent defense he's playing at second, especially considering he's been a shortstop his whole career.
5. Anybody seen Edinson Volquez?
After a lights-out rookie season for the Reds, he's been straight average so far this season: 15.1 IP over three starts, 17 H, 11 ER, 13 BB, 15 K, 3 HR.
This couldn't have something to do with Dusty Baker being his manager, could it? I mean, it's not like he has a history of ruining young pitchers or anything.
(From Buzz Bissinger's Three Nights in August, published in 2005: "First, La Russa considers Wood's pitch count. It stands at seventy-nine, which hardly suggests that the Cardinals are about to get rid of him, particularly as Baker is infamous for taking his starting pitchers deep into games. No one in the major leagues did it more last season; nineteen times he kept his starters in for more than 120 pitches."
(Say, that reminds me. How's that Mark Prior doing these days?)
4. Back to the Yankees for a minute: Expect Brett Tomko to be a factor before too long.
He had an excellent spring and has yet to give up a run in 7.1 innings over five relief appearances in AAA Scranton. He's struck out eight to just one walk.
Considering the Yankees pen has given up 23 runs over the past four games, it seems like they might use somebody who can come in and actually get outs.
3. Detroit's Rick Porcello needed just 86 pitches (56 of them strikes) to go seven innings against the Mariners in Seattle on Sunday, giving up one run on five hits. He struck out three and did not issue a single walk.
Kid is good. Real good.
2. Let's just make these awards updates an every week thing:
AL MVP: Miguel Cabrera, Tigers: .489, 4 HR, 12 RBI
NL MVP: Ryan Ludwick, Cardinals: .405, 5 HR, 15 RBI
(Albert Pujols gets at least a one-week ban for not showing up in Chicago. He was just 1-15 with 0 HR and just 1 RBI. For his career, Pujols is just a .282 hitter at Wrigley, more than 50 points below his career BA.)
AL Cy Young: Grienke
NL Cy Young: Johan Santana, Mets: 2-1, 19.2 IP, 1 ER (0.46 ERA), 11 H, 5 BB, 27 K
AL Rookie of the Year: Ricky Romero, Blue Jays SP: 2-0, 21 IP in three starts, 4 ER (1.71 ERA), 19 H, 4 BB, 13 K
NL Rookie of the Year: Jordan Schafer, Braves: .267 BA, 2 2B, 2 HR, 3 RBI, 4 BB, 18 SO
(This is a really, REALLY weak year for NL rookies.)
1. The deaths of Harry Kalas and Mark "the Bird" Fidrych have already been discussed at length over the past week.
I'll just say farewell and thanks. Sports are about memories, and those two provided us with some great ones over the years.
Let's have a week with no deaths, shall we?