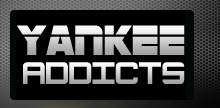 June 15, 2009 · Jared Zeidman · Jump to comments
Article Source: Bleacher Report - New York Yankees
Disclaimer: Jared is well aware that the moment that the overwhelming majority of this article pertains to took place three days ago. He hasn't been available to do a post, so we are going to play make believe. Just deal with it.
I could talk about how Johan Santana got shelled in the worst outing of his life Sunday afternoon. I could talk about how two guys from the 1997 Florida Marlins are keeping the Mets in contention. But instead I will talk about the Luis Castillo Debacle Of 2009.
Rather than harp on the obvious "Hey Luis, please use two hands," I would like to point out a few other things.
The first person I want to point out is Derek Jeter. Now you may be saying "what does Derek Jeter have to do with any of this?"
The answer is everything.
Everyone that has played for the Yankees in the last 12 years has been held by both fans and the New York media to Jeter's standard of hustle. If you don't hustle, you don't play for the Yankees.
Despite the most incredible botched catch of all time, and Luis Castillo's incredible impersonation of a ballerina on his way down, the key to that entire play was the Yankees' hustle. And I don't think nearly enough people are talking about that element.
In a game against the cross-town Mets (who average one player a week not running out a grounder and have already blown a handful of games due to absolutely incomprehensible fielding errors), the Yankees hustled and stuck to the fundamentals when it counted.
By abiding to the fabled cry "Two Outs: Run On Anything," Mark Teixeira was able to score from first base on a pop up that barely left the infield and win for the Yankees.
And that element makes it far and away the most poetic loss for the New York Mets all season. The Mets are a team that lacks hustle, discipline and most importantly, leadership. This has obviously put Jerry Manuel on the hot seat.
But think about thi: Friday night's game marked the third game this season where Jerry Manuel made a managing decision that ended up being brilliant, only to be ruined by an atrocious fielding error.
Manuel changed a pitching match up against the Marlins earlier this year, which forced a routine pop up which was dropped by Daniel Murphy.
Manuel then brought in a fifth infielder anticipating a grounder and a force at the plate against the Dodgers. The grounder happened, and after a clean fielding job by Jeremy Reed the ball was thrown about 13 feet wide of home plate.
That brings us to Friday night, where Manuel intentionally walked Mark Teixeira to get to A-Rod, who hit a high pop that should have been easily fielded…except it wasn't.
The catch that wasn't will surely go down as a blunder for the history books. But what should be remembered (especially for the young baseball fans) is that the team that regularly hustled won the game and the team that couldn't execute lost the game.
Now, someone get me a scotch.