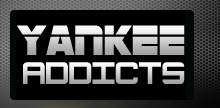 June 12, 2009 · Luis Torres · Jump to comments
Article Source: Bleacher Report - New York Yankees
"Oh my God!"
That was the reaction of thousands of Mets fans around the world when they saw Luis Castillo drop the ball.
For those of you who don't know, the Subway Series was on this weekend with the New York Yankees hosting the New York Mets at the new Yankee Stadium in NY.
The first game featured Yankee starter Joba Chamberlain against the Mets' Livan Hernandez. Joba took a no-decision after going 100 pitches in four innings and leaving the game with a 3-2 deficit in the fifth inning.
This lead changed hands a couple more times until the bottom of the ninth inning. The Mets lead the game 8-7 in the bottom of the ninth with Francisco "K-Rod" Rodriguez on the mound.
After intentionally walking Mark Teixeira with two outs in the bottom of the ninth, K-Rod put the winning run on base with Alex Rodriguez coming up.
What happened next had many baseball fans throwing up.
Two on, two out and a 3-1 count to Alex Rodriguez. He pops him up to second baseman Castillo and then it happened. Luis Castillo dropped the ball.
Pause for dramatic effect.
And the Yankees win it 9-8 in a heartbreaking loss for the Mets. And this one is yet their worst loss of the season.
It just seems like the Mets keep finding different ways to lose the game. And that's how it has been all season.
Here's to hoping the Mets can bounce back.