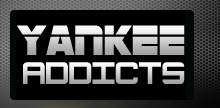 December 26, 2009 · Sam Fogelgaren · Jump to comments
Article Source: Bleacher Report - New York Yankees
Hey bleacher report, its been a long time since my last post.
I've been busy with many different things the last three of four months,so I haven't really had a chance to post anything on b/r. But now I'm back, at least for the next week or so to talk about whatever is going on in sports (except for Tiger Woods). So here's a little piece about yet another Yankee mistake.
Austin Jackson. A name that confuses most Yankee fans.
While Brian Cashman tried to make Jackson out to be the next Torii Hunter, Jackson proved to be just another decent outfield prospect, hitting .288 over five years in the Yankees minor league system.
As many fans now know, Jackson, along with reliever Phil Coke and Ian Kennedy, were traded to the Detroit Tigers and Arizona Diamondbacks, respectively, for Tigers outfielder Curtis Granderson.
Don't get me wrong, Curtis Granderson is an excellent player, one who, like the aforementioned Torii Hunter, combines speed, power and agility like few other outfielders, or for that matter, any hitters in baseball can.
But is it really worth it to trade a pitching prospect, and lefty specialist AND this "prize possession" Jackson for a very good outfielder, while just two years prior, the Yankees would refuse to acquire the best pitcher in baseball because it involved Jackson's name in the deal?
These are all intriguing arguments, but when its all set and done, the Yankees completely over hyped Austin Jackson.
Jackson was a very good prospect, probably top 10 in a pretty good Yankee farm system. Jackson consistently showed signs of speed and good contact with the ball, as his .288 batting average and 137 stolen bases over five years show.
But Austin Jackson was never what the Yankees made him out to be.
He was never this Torii Hunter like player.
He was not worthy of being traded for the likes of Johan Santana.
So I have just one question to you, Mr. Cashman.
WHY DIDN'T YOU TRADE FOR JOHAN SANTANA WHEN YOU COULD HAVE GIVEN UP JACKSON AND IAN KENNEDY???
(Ok, there might have been a little more to the deal than that, but if you throw in a Jeff Karstens and Ross Ohlendorf, the deal would have happened)
The answer to this question, we will never know.
But is Austin Jackson wasted trade bait?
Yes, he certainly is.
Read more New York Yankees news on BleacherReport.com