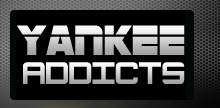 November 21, 2010 · Ronald Monestime · Jump to comments
Article Source: Bleacher Report - New York Yankees
With the recent announcement that actress Eva Longoria has filed for divorce from San Antonio Spurs point guard Tony Parker, eyes widened and jaws dropped all across the country. Especially in light of the discovery of numerous text messages from Parker to Erin Barry, the wife of former teammate Brent Barry.
Unfortunately though, the impending dissolution of the Parkers' three-year marriage shouldn't come as much of a surprise at all. Over the course of the past several decades, the professional sports landscape is replete with evidence that marital fidelity has gradually become a dying concept.
The reality is polls and studies indicate that while nearly half of marriages within the general population end in divorce, a discouraging statistic intrinsically, the divorce rate among professional athletes is between 60 and 80 percent.
What's even more disheartening is there are no viable solutions in sight because the contributing factors to this dilemma are inherent to the occupation.
Much like actors, actresses and music artists, professional athletes are increasingly hard pressed to give what it emotionally, mentally and spiritually requires to sustain a marriage.
Between what is necessitated to keep their bodies in peak condition, rigorous travel schedules and numerous public appearances, among other time commitments, it appears that when they utter the words 'I do/will' athletes are married to their profession and public image more than their actual spouses.
But what truly takes its toll on the marriage of a professional sports athlete is the temptations associated their celebrity status. And the most irresistible of them all, particularly for male athletes, is sex.
Day in and day out, today's male athlete is bombarded by offers from attractive women who will go to extreme lengths for the monetary gain and/or thrill of 'bedding' one. An allurement that would test the moral character and fiber of any married man.
On the flip side of the coin, the aforementioned ease of access to sexual trysts often results in pursuits of those experiences by the athletes themselves. And the results can be extremely devastating.
Marital infidelity, broken unions and even the contraction of the AIDS virus have plagued the lives of athletes from all walks of life, from Kobe Bryant to 'Magic' Johnson to Tiger Woods.
The marriage of Tony Parker and Eva Longoria is simply the latest and one of the most publicized to fall victim to this incurable epidemic.
Male athletes and their wives may enter the institution with the best of intentions. But because they either spend more time preparing for a lavish wedding than the reality of marriage or take for granted the level of commitment to sustain it, up to eight out of 10 fall by the wayside.
This brings us to the curious case of New York Yankees shortstop Derek Jeter, who has dated a bevy of beautiful starlets including Jessica Alba, Jessica Biel, Jordana Brewster and Mariah Carey.
But yet at 36-years-old, even with Esquire's Sexiest Woman Alive, Minka Kelly, on his arm nowadays, the captain of Major League Baseball's most valuable team and America's favorite baseball player has managed to elude the bite of the marriage bug.
So although becoming a husband and a father would have enhanced his already squeaky clean public persona, Jeter has chosen the road less traveled.
Now is it because Jeter is fully cognizant of how taxing being a professional athlete is on a marriage or is the freedom that comes with being single too difficult to give up for the eleven-time All-Star?
Or is it both?
Either way, today's male athlete should be more contemplative about getting married when the plethora of challenges that come with playing professional sports are thrown into the equation.
So whether it's the divorce of Tony Parker and Eva Longoria, the Tiger Woods sex scandal or 'Magic' Johnson contracting the AIDS virus, as surprising as those stories are, the level of shock should be at an absolute minimum at this point.
Athletes can do extraordinary things on the field, but they are only human. And fame and fortune can be as much of a curse as they are a blessing.
Click here to read the original article on Examiner.com, which includes relevant links and a special report on the impending divorce of Tony Parker and Eva Longoria.
Read more New York Yankees news on BleacherReport.com