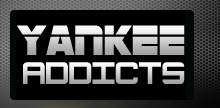 March 27, 2010 · Doug Rush · Jump to comments
Article Source: Bleacher Report - New York Yankees
I've never heard so much talk of rumors and speculation about a free agent class before.
The class of 2010-2011 already has had a ton of speculation surrounding it. Now Jayson Werth's name is being added in.
Werth has finally caught on as an emerging star with the Phillies and will be in the final year of his contract in 2010. Werth will then join a free agent class with Lance Berkman, Carl Crawford, Manny Ramirez, Cliff Lee, Josh Beckett, Carlos Pena, Derek Jeter, Mariano Rivera and possibly, Albert Pujols.
That's a pretty impressive list.
We all know the Yankees are going to probably re-sign Jeter and Rivera. They've been tied into multiple rumors for Crawford. Now they are being tied into rumors for Werth as well.
According to the New York Post's Joel Sherman, the Yankees could use Reggie Jackson as a recruitor to potentially persuade Werth into coming to New York when his contract with the Phillies runs out.
Jackson, who right now serves as a special advisor for the Yankees, played with Jayson's stepfather Dennis Werth in the late 1970's and early 1980's with the Yankees. He also played with Jayson's uncle, Dick Schofield, when Jackson played for the Angels.
Yankees General Manager Brian Cashman used Jackson as a recruiter in 2008 when the Yankees were in serious negotiations with CC Sabathia. If the Yankees needed Jackson to do some more bidding for them, I'm sure Mr. October would be more than happy to oblige.
This past Friday, Jackson and Werth had lunch in a Tampa hotel and talked for over an hour, but both Jackson and Werth have said that the lunch was nothing more than catching up on old times and was not an authorized meeting from the Yankees.
So here's the question, are the Yankees really going to make a major effort after the season for Werth?
Because of Werth's increased production, his price tag has certainly gone up from the $7 million he will earn in 2010. In 2009, Werth hit a career high 36 home runs and drove in 99 RBI in the Phillies lineup.
The Phillies have shown of recent time that they are willing to spend to continue their dominance of the National League.
They traded Cliff Lee to get Roy Halladay, then signed him to a three year extension. They signed Raul Ibanez last season and Placido Polanco this season. Ibanez hit 34 home runs and drove in 93 RBI last season while Polanco won his second Gold Glove last season with the Tigers and is an improvement at third base over Pedro Feliz.
The main core of the team is Ryan Howard, Jimmy Rollins, Chase Utley, Shane Victorino and Cole Hamels; all products of the Phillies system that have turned into stars. Because the Phillies have been able to add pieces like Werth, Ibanez, and Polanco, they have emerged as a perennial national league favorite. On paper, the Phillies have by far the best offense in the National League.
The Phillies will have the 2010 seeason, plus the 15 days after the World Series to have exclusive rights to negotiate with Werth. But it's not a definite if Phillies general manager Ruben Amaro, Jr. will negotiate with a player in the middle of the season or not.
When asked about his potential free agent period and his relationship with Jackson, Werth told the Post that he's never been a free agent before so he doesn't know what to expect, but right now, his focus is completely towards the Phillies winning in 2010.
It's the typical answer you would expect, but you have to wonder if Werth's thought about it behind closed doors.
Now, we have all heard the stories surrounding the Yankees interest for Crawford. But lets say Crawford re-signs with the Rays during 2010 or after 2010, or Crawford is traded to another team and they lock up Crawford long-term. That would then take the Yankees right out of the sweepstakes for him, thus setting up the Yankees interest for Werth, especially if their interest is in fact true.
You have to think the interest is there, especially because this isn't the first time now that someone has reported about it. Last week, Sports Ilustrated's Jon Heyman reported that the Yankees are very high on Jayson Werth, along with Crawford.
After the 2010 season, the Yankees will have two main areas to concern with, aside from re-signing Jeter and Rivera; left field and starting pitching.
Honestly, right now I see the Phillies re-signing Werth, but I could be wrong. The Yankees have so much money and resources to get any player they desire. Plus, playing for a championship every season is hard to turn down, and players know that they are on a playoff-caliber team when they sign with the Yankees.
Werth is already with a playoff-caliber team with the Phillies and is extremely popular there already, so mostly it would come down to either a money issue or Werth's preference choice of playing.
I know we're getting ahead of ourselves, especially with the potential season that is about to start— eight days away to be exact with the Yankees and Red Sox on Easter Sunday.
But now I will leave it up to you, the B/R community, to talk, debate, and discuss this issue. Could Werth really be a Yankee in 2011? Does Werth stay with the Phillies? Or will Werth sign somewhere else?
Stay tuned.
Read more New York Yankees news on BleacherReport.com