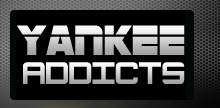 May 11, 2009 · Rob Maccariello · Jump to comments
Article Source: Bleacher Report - New York Yankees
Mailbags are all the rage on sports websites across the county. Yet, it's somewhat disappointing that this great website doesn't have one.
In an attempt to help fix this problem, and based on the interest shown in feedback from writers on many articles across the site, I will be starting a periodic mailbag of my own.
I'll publish questions and answers straight from you, the writers and fans, about lots of things in the Yankees universe: ticket prices, Joba's usage, and whether or not Joe Girardi should keep his job.
No question is too outrageous. No topic is off-limits. If you've ever listened to my radio show, you know that no one is safe!
Just be sure to send your questions to robert.maccariello@gmail.com with "Yankees Mailbag" in the subject line.
Be sure to check back to BleacherReport.com often, and look out for the answers!