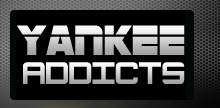 April 24, 2010 · Christopher Woodley · Jump to comments
Article Source: Bleacher Report - New York Yankees
Andy Pettitte limited Los Angeles to one run over eight innings, and Robinson Cano posted his 16th career four-hit game as New York earned a 7-1 win Saturday afternoon at Angel Stadium of Anaheim. Pettitte has not allowed more than two runs in any of his four starts this season.
Pettitte (3-0) lowered his ERA to 1.29 after only allowing one run on six hits. He also struck out a season-high eight with no walks. Joel Pineiro (2-2), who beat the Yankees on April 14, suffered the loss after allowing six runs on 11 hits over six innings.
New York grabbed an early lead in the top of the second on Nick Swisher's RBI double. The Yankees defense was solid behind Pettitte as third baseman Ramiro Pena robbed Juan Rivera of a base hit with a diving catch in the second inning. In the third, Brett Gardner threw out Mike Napoli at third base as he attempted to go from first to third on a Brandon Wood single.
After Pettitte struck out Torii Hunter with the bases loaded to end the bottom of the third, the Yankees added three runs in the fourth. After loading the bases with one out, Pineiro struck out Pena. However, Francisco Cervelli delivered a two out, two-run single to left field. Derek Jeter added an RBI single to give New York a 4-0 advantage.
Brett Gardner, who finished with three hits, tripled to lead off the fifth inning. After two outs, he scored on Cano's RBI single. Cano advanced to third on a wild pitch and passed ball and scored on Swisher's RBI single. Of the Yankees seven runs, five crossed home plate with two outs.
The Angels only run scored in the sixth inning when Erick Aybar led off with a double and scored on Hunter's sacrifice fly RBI. Mark Teixeira completed the scoring with an RBI double in the seventh.
New York and Los Angeles will complete their weekend series Sunday afternoon. Javier Vasquez (1-2, 8.27) will start for the Yankees, and Scott Kazmir (1-1, 7.45) will counter for the Angels. First pitch is set for 3:35 p.m. ET.
Read more New York Yankees news on BleacherReport.com