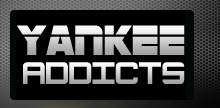 March 16, 2012 · Michael Nargi · Jump to comments
Article Source: Bleacher Report - New York Yankees
The New York Yankees have added to their already solid pitching rotation by signing Andy Pettitte to a minor-league deal.
Jack Curry of the YES Network reported the signing via Twitter on Friday:
The Yankees have signed Andy Pettitte to a 1-year minor league deal worth $2.5 million. The team is thrilled to have 240-game winner back.
The amount of money involved in the deal makes it seem more than likely that Pettitte will be on a fast track to the majors and eventually find a home in the rotation.
It is safe to assume that Pettitte has shown to the Yankees hierarchy that he still has enough gas left in the tank to pitch at the major league level. The Yankees would not have signed him if they did not see the potential.
As long as he throws well enough in the spring, it would not be surprising if Phil Hughes and Freddy Garcia go back to the bullpen for Pettitte to claim the fifth spot in the rotation.
With Pettitte as the fifth starter, the Yankees would have one of the best rotations in baseball.
When Pettitte appeared at spring training as a guest last month, he was asked by reporters if he could physically pitch again.
I'm sure I could. You start training, working out and getting yourself into shape. I'd imagine you could. I retired, I felt, after one of my better years. I felt like I was at the point where I just kind of knew what I was doing mechanically out there on the mound. I retired to go home and be with my family.
It never seemed as though he was 100 percent sold on retirement, and now he has the opportunity to make a comeback and have a significant impact in the Bronx.
Read more New York Yankees news on BleacherReport.com