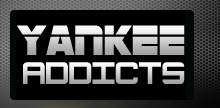 March 16, 2012 · Ryan Rudnansky · Jump to comments
Article Source: Bleacher Report - New York Yankees
Who knows how Andy Pettitte will perform in his return to the New York Yankees.
But when the Yankees signed him to a $2.5 million minor league deal on Friday, they were undoubtedly adding insurance at the back of the rotation.
The Yankees' starters combined for a 4.03 ERA last season, which ranked fifth in the American League. A lot of that had to do with surprising performances from veterans Freddy Garcia and Bartolo Colon. The Yankees know they have to pitch better this season, particularly in the postseason, to come away with the championship.
That's why the Yankees traded top catching prospect Jesus Montero for Michael Pineda this offseason. And that's why they are giving Pettitte another chance.
The last time Pettitte pitched was in 2010, when he posted a 3.28 ERA and 11-3 record with the Yankees. He's 39 years old now, but there's the potential he could work for the Yankees like Garcia and Colon did last season.
It's worth noting that projected No. 5 starter Phil Hughes has never lived up to the hype. He was drafted in the first round in 2004 and has yet to produce. On top of that, while Ivan Nova was a pleasant surprise last season, this is just his third year in the league and there's no telling if he will continue his success.
Pettitte isn't being looked at as some kind of savior this season. In that sense, it's a great move. You give him a chance to succeed and if he doesn't, it doesn't hurt you. If he does come back to surprise, it's an added bonus and puts pressure on Nova and Hughes to step up.
The Yankees, as always, have high expectations this season. They won 97 games last season, capturing the American League East, but they lost in the ALDS to the Detroit Tigers.
Pettitte could be that X-factor that puts them over the top.
If not, they already have a better rotation than they did in 2011.
Follow me on Twitter. We can talk about Andy Pettitte and/or the Yankees.

Read more New York Yankees news on BleacherReport.com