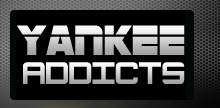 April 22, 2009 · Rob Abruzzese · Jump to comments
Article Source: Bleacher Report - New York Yankees
Andy Pettitte is now 2-0 after last night's start and is looking more like a pitcher capable of winning 20 games than the guy who struggled through last August.
"If I'm healthy, I'm going to win 15-20 games," Pettitte said back in March. "That's not setting goals or anything . . . that's just what I can do."
Well, with Chien-Ming Wang's form questionable for the near future, the Yankees are certainly going to need Pettitte to stay strong and so far that's just what he's done.
In three starts hes averaging just over seven innings pitched per outing. And his peripheral stats have been just as impressive. So far he's pitched 21.1 innings with a 2.53 ERA, two walks, a 0.94 WHIP, and a .231 batting average against.
It's unlikely that his numbers are going to remain this stellar through the entire season, but it is very refreshing seeing him coming off a disappointing season and puting up these numbers.
I would like to see him keep this up for another couple of weeks before I would say he has a realistic shot at winning 20 games, but so far 15 is not out of the question. But hell, Mike Mussina won 20 last year, who says Pettitte can't do it in 2009.