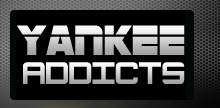 April 22, 2009 · Rob Abruzzese · Jump to comments
Article Source: Bleacher Report - New York Yankees
Outside of a three-year hiatus, Andy Pettitte and Mariano Rivera have pitched together for a very long time on a team that is known to keep their players on a short leash.
They've been together for so long because they've become quite an effective tandem and last night they tied the record for most, 57, times a closer picked up the save for a specific starter.
"It's special, definitely—it is special," Rivera said. "The most important thing is that we won the game. He gave us a good performance today and we were able to put some runs on the board and hold it."
"It's a lot of longevity," Yankees manager Joe Girardi said. "The way they take care of themselves, the way they work at their trade, to have that opportunity to tie that is pretty amazing. Those two guys have been staples here for a long time."
The fact that it is this early in the season means that the pair are going to have plenty of opportunities to surpass the record previously held by Oakland's Dennis Eckersley and Bob Welch.