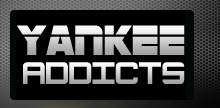 April 21, 2009 · Nick Pucci · Jump to comments
Article Source: Bleacher Report - New York Yankees
Both Andy Pettitte and Mariano Rivera started their careers in 1995 as New York Yankees.
Mariano has stayed put and has been with the Yankees since the start of his career, while Andy has been a Yankee for 12 of his 15 seasons.
Both Yankees have impressive career numbers:
Pettitte has over 2,000 strikeouts, 217 wins, and a career 3.88 ERA.
Rivera sports an impressive hall-of-fame stat line of 485 saves, close to 1,000 strikeouts, and an astonishing 2.28 ERA. These numbers secure a spot as one of the most dominate closers ever.
Both players are playoff studs winning MVP honors and even holding records such as lowest ERA (Rivera .77) and most saves (Rivera 34). They even share four rings from the Yankee-dominated 90s.
All of this statistical data helps show the impressive careers of these teammates but one stat that many people are unaware of is the 57 times that Andy Pettitte and Mariano Rivera have recorded a win and save in the same game.
Mariano has held on to an Andy Pettitte win, via save, 57 times throughout their careers.
This ties the great Dennis Eckersley and Bob Welch on the all-time win/save list and I would say there is an extremely well chance that the record is in the lone possession of Mo and Andy shortly.
Ironically enough,the Yankees beat the Oakland Athletics 5-3, the team the record by Dennis and Bob was set on..
The longevity of both Andy Pettitte and Mariano Rivera is amazing. To be able to pull this off 57 times in over 14 seasons (minus Andy's Houston stint) is incredible.
Also it is pretty impressive that those 57 times accounts for over 25 percent of Andy's win total.