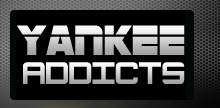 June 4, 2009 · Heartbeat Of The Bronx · Jump to comments
Article Source: Bleacher Report - New York Yankees
Yankees starter Andy Pettitte was always deemed the model of consistency in New York's rotation.
Throughout individual games, he appeared as though consistency was an infectious disease he was attempting to avoid, but the end result usually involved a Yankees win.
He might completely lose his control from inning to inning, or pitch brilliantly until a 3-4 run sixth inning, but he won with regularity—which is all Yankee fans care to remember.
Pettitte has won 63 percent of his career decisions and has twice won 20 games in a season. He was confident, reliable, and accountable, never backing down from a challenge.
It seems as though Pettitte has another fight on his hands, and his unrelenting self-assurance will be stretched to its limits.
Always just one pitch away from ending his career, he has repeatedly stated that he will hang up his cleats when his elbow finally breaks down permanently.
Recent injury struggles have instead involved a balky back, though perhaps it has resulted from overcompensation to protect the stresses placed on his pitching arm.
In response to the injury, Pettitte conceded, "I guess it's a little bit of old age."
This is the first sign of a man beginning to succumb to the daily aches and pains of a 162-game season.
The Yankees once won because of him and his uncanny ability to pitch himself out of trouble—always making the perfect pitch in key situations.
Now, they are winning in spite of him, battering opposing pitchers into submission in order to squeak out a victory.
In seven starts since the calendar turned over to May, Pettitte has pitched to a 5.23 ERA and a staggering 1.84 WHIP.
In addition, he has recently enlisted the aide of a GPS system to locate home plate, walking 23 hitters in just 41.1 innings pitched. This equates to a BB/9 ratio of over five, including games of four, four, five, and six walks over that span.
The Yankees have still managed to go 5-2 during Pettitte's recent struggles, which has significantly limited the whispers of a possible 2009 "swan song."
When healthy, Pettitte is still a weapon on the mound, evidenced by his 2.96 ERA in the month of April. He was 12-7 with a 3.76 ERA through July last season before arm problems sent his season spiraling down the stretch—he finished just 14-14 with a 4.54 ERA.
The problem is no one knows if Pettitte's body will ever be the same, or if he can last a full season without further incident.
No. 46 has always been one of the Bronx's favorite Yankees, and nothing will ever change that. He has been at the epicenter of countless heroic victories and has stood behind a microphone to answer any question asked of him, even in the darkest of times.
Pettitte is still the first member of the staff that I want on the mound in October, and there is plenty of time for him to catch a second wind in 2009. Perhaps a short stint on the disabled list later in the season can keep him fresh for the stretch run.
After all, New York is desperately trying to find ways to utilize both Phil Hughes and Chien-Ming Wang in the major league rotation.
The Yankees need Pettitte to stop coming up petite in order to make a significant run at October baseball, so here's to hoping he can turn it around.
Also seen at: Heartbeat of the Bronx