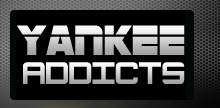 April 27, 2009 · Matt Resnick · Jump to comments
Article Source: Bleacher Report - New York Yankees
Ok, so the Yankees got embarrassed this past weekend. Yes, Mo blew an easy save by giving up a game tying Home Run (with Marte in, we knew this was a loss). Yes, AJ, unhittable at times, blew a 6-0 lead on Saturday and our bullpen was even worse. Yes Justin Masterson looked like a future ace, keeping the Yankee hitters off balance for five plus innings. But, let's not jump from the bridge just yet. Here are some positives from this weekend:
1. The Yankees should have won games started by John Lester and Josh Beckett in back to back nights. That would have been a nice accomplishment. It has to give them confidence to know that they can beat both of Boston's top pitchers, especially with the beating they gave Beckett. In fact, in his career against the Yankees, Beckett has an ERA somewhere around 6.00.
2. Unlike last year, this Yankees lineup has some fight in it. They Yanks came back in both games on Friday and Saturday. Last year, when down, the Yankees looked like they just wanted to go home. This year, they are showing some serious fight in them. To blow a 6-0 nothing lead on Saturday and come to be in position to win, shows this team has some fight in them.
3. The Yankees proved they can do damage against the Sox bullpen. Sure they couldn't get many clutch hits, but they did have nine base runners in four innings against the pen on Saturday. They also put four guys on base against Pap in two innings of work. They are not afraid of Pap, and with a few clutch hits, they could have beaten the pen twice.
4. Health: These Yankees are not healthy and not playing well at all. Players that are out: A-Rod, Wang, Bruney, and Nady. These are significant players to say the least. How about the players that are not contributing like they should: Tex, Wang, Joba, CC, Marte (he has to pitch better…right?), and almost anyone playing CF.
Look, this past weekend was a tough one to swallow for Yankee fans. I, for one, went to sleep each night dissecting each loss. However, the Yankees are 9-9 with about half a team. The only player playing above their career numbers is Cano.
Sure I hate losing, let along getting swept by Boston, but this series will not define the 2009 Yankees. When back to full strength, this team will contend for the AL East and it will make the playoffs. So let's just all, in Yankees Universe, take a collective deep breath….there, feel a little better now? Me too.
Two out of three in Detroit and more wins this week and we are brought back to life. The Sox might have won 10 in a row and swept the Yanks, but we are only three games behind them with half of our team. In October, we will all be laughing about this series…go Yanks!