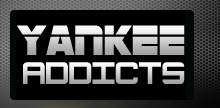 April 10, 2010 · A.J. Martelli · Jump to comments
Article Source: Bleacher Report - New York Yankees
Flirt. The word is defined as behaving amorously without serious intent or to show superficial interest or liking. Being a single guy, flirting is something I specialize in. Yet the word also refers to coming close to reaching or experiencing something.
In the New York Yankees' 10-0 win over the Tampa Bay Rays today, CC Sabathia did just that. The Yankee ace tossed 7 2/3 innings of hitless baseball until Kelly Shoppach lined a sharp single in front of Brett Gardner in left field.
Four outs and Sabathia would have tossed a no-no. Serious flirtation.
After Shoppach's base hit to break up the no-hit bid, Sabathia departed. He ended the day with 7 2/3 innings, and shutout the Rays with just that one, painful hit. The Yankee ace walked two batters and struck out five, leaving David Robertson to finish the job.
However, even if Sabathia had gotten Shoppach out, would he have stayed in the game? After all, the big man was up at 111 pitches on the afternoon. Yankee manager Joe Girardi said that no matter what happened, "Sabathia's day was over after he faced Shoppach."
On the other hand, Sabathia said that if he had gotten Shoppach out, he would have wanted to stay in the game. In his words, "the conversation on the mound would have been interesting."
The last Yankee to throw a no-hitter was Dwight Gooden, who no-hit the Seattle Mariners on May 14, 1996.
David Wells and David Cone both threw perfect games on May 17, 1998 (vs. Minnesota Twins) and July 18, 1999 (vs. Montreal Expos), respectively. Since then, no Yankee starter has ever thrown a no-no or perfecto.
However, some have come close.
On Sept. 2, 2001, Mike Mussina shut down the first 26 Boston Red Sox he faced at Fenway Park. Needing just one strike for a perfect game, Carl Everett lined a bloop single in front of Chuck Knoblauch in left field.
Sound familiar, Shoppach?
Just last year on Aug. 31, Andy Pettitte shut down the Baltimore Orioles for 6 2/3 innings. Jerry Hairston, Jr. bobbled a grounder at third for an error to end the perfect quest. The very next batter, Nick Markakis, ended the no-hitter with a single through the hole into…you guessed it, left field.
It seems left field is the "death valley" of Yankee no-nos and perfectos.
On the bright side, Sabathia picked up his first win of 2010, the Yankees improved to 3-2 on the year, and the big man lowered his ERA to 3.46.
Along with Sabathia's brilliance, Mark Teixeira, who was hitless this season up until today, finally came alive. The first baseman had three hits on the day, a double and two singles. Coupled with those three hits were an RBI and two runs scored.
Robinson Cano continued his fine hitting out of the number five hole, as he went 2-for-5 in the game. He belted a long, two-run home run into the right field seats in the top of the fourth inning en route to a three-RBI day. He now has a team-leading six RBIs in the first five games.
Gardner, Curtis Granderson, and Francisco Cervelli all contributed with RBIs to give the Yankees their 10 runs in the game.
Tomorrow afternoon the Yankees and Rays will play the rubber game of their three-game weekend series. A.J. Burnett (0-0, 5.40 ERA) will face James Shields (0-0, 4.50 ERA)
Read more New York Yankees news on BleacherReport.com