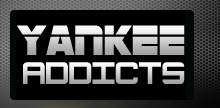 February 9, 2013 · Phil Watson · Jump to comments
Article Source: Bleacher Report - New York Yankees
It's always a fun exercise: Suspend the rules of time and put together a starting lineup for a team based on that franchise's best players.
The New York Yankees are Major League Baseball's most accomplished franchise, with 27 World Series titles and 21 players or managers in the Baseball Hall of Fame.
So it should be easy to put a lineup together out of that group, right?
Not as easy as one might think. Some of the decisions were more difficult than others and, as is the case with all exercises such as this one, your opinion may vary.
With the prelude out of the way, here is the all-time starting nine for the New York Yankees, listed by batting order, plus a starting pitcher.