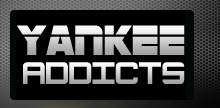 March 5, 2012 · Peter Alfano · Jump to comments
Article Source: Bleacher Report - New York Yankees
If his career ended today, Alex Rodriguez has earned the right to be in the Baseball Hall of Fame.
And he should be elected in his first year of eligibility.
I never thought I would say or write that about A-Rod or any of the other players who padded their career statistics during baseball's steroids era. Didn't we all feel that we were duped into celebrating the accomplishments of cheaters?
Although steroids were added to baseball's banned drug list in 1991, it wasn't until 2003 that the owners and players association implemented a joint drug testing program. Using steroids without a valid medical reason might have been against the law in this country, but baseball was behind the curve because the offensive fireworks were helping the sport recover from the 1995-96 work stoppage that alienated fans.
So why punish A-Rod and others when we will never know how widespread steroid use really was? Just because he was caught? Well, just because you don't get a ticket when you exceed the speed limit doesn't mean you haven't broken the law.
If we keep A-Rod out, how many others might be entering the Hall of Fame with a dirty little secret? And what happens if years from now the truth is told? Do we throw them out of the Hall?
Coaches, managers, general managers, team trainers, and probably even the owner's personal assistant knew that players were juicing.
They looked the other way.
What's more, there could be a new performance-enhancing drug being used now that isn't detected in current testing methods. Sports medicine experts say that the cheaters are generally one-step ahead of the testers. I'm not condoning cheating or advocating that we should reward it—I'm just being a realist.
The New England Patriots cheated in what we know as Spygate. NASCAR drivers brag about circumventing the rules. Baseball had a problem with amphetamine use before steroids became an issue.
Pitchers doctor baseballs. Hitters corked their bats.
At times there has been speculation that the baseball itself has been juiced. Many baseball pundits explain the record output of offense in the American League in 1961 to the fact that Los Angeles and Washington were added as expansion teams, diluting pitching, and the schedule was increased by eight games to 162.
But are those the only reasons why Roger Maris, whose career high was 39 home runs, broke Babe Ruth's record with 61? Was it why the Yankees hit 240 homers that year?
Was it why Norm Cash of the Detroit Tigers, who finished with a career batting average of .271 while averaging 21 home runs a season, batted .361 that year with 41 HRs and 132 RBI?
If Major League Baseball wants to designate the years from 1985-2005 as the steroid era, so be it. The baseball writers voting for the Hall of Fame employ faulty logic as it is. You cannot measure a player's credentials for the Hall of Fame based on what guys did in the 1930s, 40s or 50s. Players should be judged against others in their era.
Alex Rodriguez is a no-brainer for induction into the Hall of Fame. After 18 seasons he already has 629 career home runs, 1,893 RBI, a .302 batting average and .567 slugging percentage. Not even guys who took steroids compiled those numbers.
Let's compare A-Rod to his former Seattle Mariner teammate Ken Griffey Jr., who figures to be a shoo-in for the Hall of Fame. In 22 years, Griffey hit 630 homers, drove in 1,836 runs and had a slugging percentage of .538, remarkably similar stats to A-Rod. But Griffey had a career batting average of only .284, 18 points below Rodriguez.
Griffey didn't fail a drug test, however, so he won't be subject to the boycott denying Mark McGwire, Roger Clemens, Sammy Sosa and Rafael Palmeiro entry into the Hall of Fame.
We also hold it against Rodriguez for lying on national television about using steroids. So he is a liar and a cheat.
But are you ready to bet what's left of your 401k on whether Griffey was clean or just evaded detection? Can we be absolutely convinced that Albert Pujols is squeaky clean?
We just don't know, do we? Steroid use is cheating, yes, but using them or any other performance-enhancing drugs doesn't mean a player is going to compile Hall of Fame worthy numbers.
Alex Rodriguez didn't need steroids to get into the Hall of Fame. Using them shouldn't keep him out.
Read more New York Yankees news on BleacherReport.com