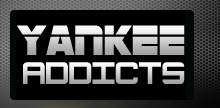 December 3, 2012 · Ron Juckett · Jump to comments
Article Source: Bleacher Report - New York Yankees
New York Yankees slugger Alex Rodriguez will undergo surgery after the first of the new year on his left hip, according to CBS Sports Insider Jon Heyman.
The surgery, which will keep the 37-year-old Rodriguez out until probably June, will repair damage that was previously not disclosed, but caused so much pain during the Yankees American League Divisional Series win against the Baltimore Orioles that he was reportedly hospitalized and given pain killers, reports Fox Sports' Ken Rosenthal.
Since signing a new contract extension after the 2007 season, Rodriguez has not played in more than 138 games in any one season.
The drop off in his numbers the last few years has become pretty noticeable as well.
A four-time league leader in slugging percentage, Rodriguez has posted a lower slugging percentage from 2008 forward.
2008 was the last time he led the league, posting a very healthy .573.
Last year, that number dipped to .430, an all-time career full-season low.
With his right hip, he tore his labrum, which was repaired back in 2009.
Since then, the once very consistent .300 hitter now has been hitting at around a .270 clip at the plate.
Speed is everything in getting the timing right to swing.
After his first surgery, Rodriguez did have two more 30 home run seasons, but has only combined his last two seasons to hit just 34 home runs.
Under contract until after the 2017 season, Rodriguez is probably reaching the part of his career he would be better off suited at either first base or designated hitter if his now two problem hips allow him to freely swing.
The problem is that the Yankees already have a big-name first baseman in Mark Teixeira and Rodriguez is still due $118 million for the final five years of his guaranteed contract.
While the magic words "career-threatening" have not been said in public so far, it is clear that Rodriguez has hit the decline phase of his offensive production.
The Yankees will be fortunate to get 80 games out of him in 2013 with a June return expected and the extra rest he will need coming back.
Having Rodriguez turn into a steady 20 home run and .275 hitter is not the worst thing in the world, but that is not why he is making the big money.
His contract is pretty much now not movable and the target of ire in The Bronx will be playing out his contract in New York.
*Statistics via Baseball-Reference.
Read more New York Yankees news on BleacherReport.com