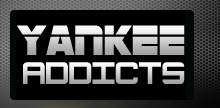 January 29, 2013 · Doug Rush · Jump to comments
Article Source: Bleacher Report - New York Yankees
It's amazing how Alex Rodriguez finds himself in the news all the time.
And unfortunately for the New York Yankees, it's potentially another embarrassing situation.
According to Tim Elfrink of the Miami New Times, Dr. Anthony Bosch's clinic is under investigation for supplying performance enhancing drugs to prominent athletes.
According to the story, players like Melky Cabrera, Nelson Cruz and Gio Gonzalez are on the list of clients that Bosch reportedly treated and supplied PED's to.
But the biggest name of all on the list is A-Rod's, who back in 2009 swore that he had not taken anything since 2003 when he was with the Texas Rangers.
That, of course, was when he was outed for taking PED's while in Texas from 2001-2003 after lying about it on national television back in 2007.
If the alleged reports are true, then it means that A-Rod has taken PED's since 2009 while as a member of the Yankees after saying he's been clean since his Texas days.
The story reads:
Yet there was his name, over and over again, logged as either "Alex Rodriguez," "Alex Rod," or his nickname at the clinic, "Cacique," a pre-Columbian Caribbean chief. Rodriguez's name appears 16 times throughout the records New Times reviewed.

Take, for instance, one patient list from Bosch's 2009 personal notebook. It charts more than 50 clients and notes whether they received their drugs by delivery or in the office, how much they paid, and what they were taking.

There, at number seven on the list, is Alex Rodriguez. He paid $3,500, Bosch notes. Below that, he writes, "1.5/1.5 HGH (sports perf.) creams test., glut., MIC, supplement, sports perf. Diet." HGH, of course, is banned in baseball, as are testosterone creams.
And further on in the story:
The mentions of Rodriguez begin in 2009 and continue all the way through last season. Take a page in another notebook, which is labeled "2012" and looks to have been written last spring. Under the heading "A-Rod/Cacique," Bosch writes, "He is paid through April 30th. He will owe May 1 $4,000… I need to see him between April 13-19, deliver troches, pink cream, and… May meds. Has three weeks of Sub-Q (as of April)."
A-Rod has released a statement (via hardballtalk.nbcsports.com) through his newly appointed lawyer, Roy Black, who is considered one of the top lawyers in the United States.
"The news report about a purported relationship between Alex Rodriguez and Anthony Bosch are not true. Alex Rodriguez was not Mr. Bosch's patient, he was never treated by him and he was never advised by him. The purported documents referenced in the story — at least as they relate to Alex Rodriguez — are not legitimate."
Mike Mazzeo of ESPN New York reported the statement the Yankees released, which is them basically passing off responsibility to Major League Baseball.
"This matter is now in the hands of the Commissioner's Office." #Yankees have no comment until A-Rod investigation has concluded.
— Mike Mazzeo (@MazzESPN) January 29, 2013
A-Rod is already expected to be out until July due to a second hip surgery, which was done this month and needs at least six months of rehab and recovery time.
But if in fact these reports are true and A-Rod has been taking PED's, the Yankees need to investigate on how they can get rid of him.
Hal Steinbrenner, Randy Levine and Brian Cashman need to investigate whether the Yankees can void A-Rod's deal.
Not only has A-Rod lied and admitted to taking steroids in the past, but now, if the Miami New Times story is true, he will have taken PED's while as a member of the Yankees after saying he's been clean for nine years.
If there isn't any way the Yankees can void his deal, then they might need to look at biting the bullet and simply releasing him from the final five years and $114 million he's still owed.
It's a lot of money for the team to just eat, but let's all be honest here, A-Rod has become a walking P.R. nightmare for the Yankees.
He's not the same player he once was and is on a major decline, yet he gets paid like he's the reigning MVP each year.
If A-Rod gets suspended by Major League Baseball for the 50 games as a first-time offender, then I think the Yankees need to take action after that point and cut their losses with the 37-year-old.
I know the Yankees are worried about their payroll getting to the $189 million mark for the 2014 season, so if they can rid themselves of A-Rod's deal, then they need to do it as soon as possible.
Stay tuned, Yankees Universe.
Read more New York Yankees news on BleacherReport.com