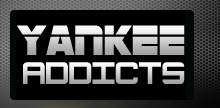 December 2, 2011 · Christopher Benvie · Jump to comments
Article Source: Bleacher Report - New York Yankees
When the New York Yankees take the field on Opening Day 2012, the team should look a little different.
The time has come for Alex Rodriguez to take over as the primary designated hitter for the Yankees. My argument is one that walks a bit of a fine line, but allow me to make my case.
In 2011 Alex Rodriguez played in the fewest number of games as a full-time major league player in his 18-year career.
Think about that for a second—A-Rod has been in the league for 18 years. He is 35 years old. That is a lot of mileage on those legs.
Rodriguez is the single largest investment that the Yankees have right now (in the middle of a 10-year contract he signed with the Yankees in 2007). He carries an annual average salary of $26.9 million. He figures to make $29 million this season, $30 million if he hits 30 or more home runs. It is a lucrative deal for a lucrative player. Arguably on of the best to ever play the game. The problem with A-Rod is that he does not appear to pass the eyeball test any longer.
Sure, he had a .973 fielding percentage in 2011, but he also managed to commit 13 errors. Is he the crux of the Yankees problems this offseason? Not at all. Could he help fill another void in the lineup?
Absolutely.
I admit, it might call for some creativity on the side of Brian Cashman and Co. There are only two bona fide everyday third basemen available through free agency: Aramis Ramirez and Wilson Betemit.
Ramirez is obviously the best third baseman on the market. The problem I see with him is that he is 33 years old and is going to command top dollars. Not that paying for a player has ever been an issue for the Yankees, but I see them starting to make some wiser baseball decisions as of late and perhaps giving big money to an older player may not be a priority.
Sure, he hit .306 with an OPS of .871 with 26 homers in 2011, but offense is not a problem for the Yanks. Ramirez's .953 fielding percentage in 2011 is no upgrade over A-Rod, and thus, negates the true need for him.
Betemit may not be high on the radar of Yankees fans. After his abysmal stint in New York in 2007 and 2008, Betemit has proven himself to be a solid player at third. He would be a low-cost option, but again, no upgrade defensively as he posted a .947 fielding percentage in 2011. If the Yankees were to bring in Betemit again, you might see them sign Eric Chavez to come back and platoon the position.
The real solution that may be viable would be through a trade with the Kansas City Royals.
Going into the 2011 season, the Royals had the single highest-rated third base prospect in all of Major League Baseball: Mike Moustakas.
Moustakas is only 23 years old and got the call-up to play 89 games this season. That is the entirety of his major league experience. His bat is not there yet, and his fielding percentage was .954—which is pretty damn good for a kid getting his first licks in the majors. (In his first 63 games in the majors, A-Rod posted a .934 fielding percentage.)
The question becomes, why would the Royals trade him? They seem to be re-tooling right now. The Royals traded (former Yankee) Melky Cabrera to the San Francisco Giants to bring in Jonathan Sanchez.
What if the Yankees put together a package surrounding A.J. Burnett and perhaps either Manny Banuelos or Hector Noeisi? Burnett flourished in smaller markets like Florida and Toronto. Kansas City might give him the fresh start he needs, and the young pitching might be enough to make Kansas City pull the trigger.
The catch would be that the Yankees would have to eat a majority of his salary so that the low-budget Royals may bite at the offer. This would give an immediate boost to their starting rotation while allowing the Yankees to get a little bit younger in a position that could use it.
It may not be realistic, but it is one viable way for the Yankees to move forward, securing their largest asset for the long run.
Read more New York Yankees news on BleacherReport.com