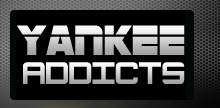 December 3, 2012 · Pete Schauer · Jump to comments
Article Source: Bleacher Report - New York Yankees
With serious injuries sustained by the left side of the New York Yankees infield, one thing is becoming increasingly clear: The Yankees are old.
This isn't news by any means, as the Yankees have ranked near the tops of the MLB in terms of collective team age for a number of seasons now. New York owns the second-oldest roster in the MLB, according to ESPN.
Most of all, Alex Rodriquez' injury brings to the forefront a problem that New York has needed to address for years now, and that's attempting to get younger.
According to ESPN's Andrew Marchand, A-Rod will undergo surgery on his left hip and is scheduled to miss "most of the first half of the 2013 season."
Rodriguez, who will turn 38 next season, has seen both his production and his body slow down since the 2010 season, when he hit 30 homers and drove in 125 runs while playing in 137 games for New York.
He's still one of the better defensive players in all of baseball and poses a threat at the plate, but to be frank, Rodriguez is a shell of the player he used to be. His injury affects New York in the field more than it does at the plate.
Also going against the Yankees is the fact that Derek Jeter, who will turn 39 next season, is dealing with his own injury woes after fracturing his ankle in the ALDS against the Detroit Tigers.
Jeter strongly believes he'll be ready come Opening Day (h/t Wallace Matthews of ESPN), but New York still needs to be active this winter and add youth to the team.
New York recently re-signed Andy Pettitte (40), Hiroki Kuroda (37) and Mariano Rivera (43), and while they're all great veteran pitchers, those signings don't help New York in the long run. One has to think 2013 will be the last season for Pettitte and Rivera, and with the Steinbrenners trying to shrink the payroll, things are looking bleak in New York.
Yahoo! Sports MLB Columnist Jeff Passan touches on the age and contract status of the Yankees roster, tweeting:
The Yankees are paying A-Rod, Tex, CC, Jeter, Cano, Granderson, Kuroda, Pettitte and Rivera combined $159 million. Their average age: 35.6.

— Jeff Passan (@JeffPassan) December 3, 2012
Last season proved that the Yankees can't win with an aging group of superstars. There's nothing wrong with re-signing veteran guys like Mo, Pettitte and Kuroda as long as Brian Cashman plans on bringing youth to the team for the years ahead.
We'll see what Cashman and the Yanks do during the winter meetings, but unless New York plans on adding younger pieces to an aging team, don't expect a championship in the Bronx anytime soon.
Follow me on Twitter: Follow @Pete_Schauer
Read more New York Yankees news on BleacherReport.com