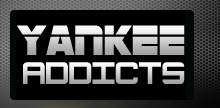 May 1, 2009 · Aaron Sharrow · Jump to comments
Article Source: Bleacher Report - New York Yankees
As pitchers and catchers were about to report for spring training, the media was in a frenzy about something that will be talked about for years after Selena Roberts from Sports Illustrated reported that Alex Rodriguez had done the unthinkable.
He had tested positive for steroids in 2003. Rodriguez, the starting third baseman for the New York Yankees, was one of 104 players who tested positive during baseball's 2003 survey, checking how bad of a problem steroids really were in the sport of baseball.
The report was supposed to remain confidential, and while only one name has came out, it was the guy who was supposed to take over the reins of the home run crown, from tainted suspected-steroid-user Barry Bonds.
What really makes this is a travesty for the game of baseball is that Rodriguez was supposed to be the clean guy, and help give baseball back the reputation that a player can put up Hall of Fame numbers without the use of performance enhancers.
Alex Rodriguez was someone many people just could not see taking the low measures of taking steroids. He seemed like the type of person who worked as hard as anyone possibly could and would never take shortcuts.
Rodriguez seemed to be living the life that many people wish they could experience for just one day. The Yankees third baseman said he started to use steroids due to the pressure of being the highest paid player in sports history by the age of 25, when he signed a contract with the Rangers in 2001 worth $252 million for 10 years.
He opted out of the contract in 2007, and signed an even more lucrative contract of $275 million for 10 years guaranteed. The Yankees also made the home run ball a big part of the incentives in the contract, by giving him the possibility to receive $6 million every time he reaches some of the biggest milestones in baseball history.
Tying Willie Mays, Babe Ruth, Hank Aaron, and Barry Bonds will earn him a total of $24 million. Then, if he passes Bonds for the home run king, he would receive the final six million of the home run bonus.
The Yankees did this in part because they thought they would receive a lot of revenue by having a player in pinstripes chasing after history and milestones that fans feel would be almost impossible to do clean.
With Alex Rodriguez's admittance to using steroids, the atmosphere during his home run chase just will not be the same, as it just will not feel any different then when Barry Bonds took the record away from Henry Aaron, who broke the record that was held by Babe Ruth and is known to this day having played clean.
Hank Aaron even had to deal with the adversity of race and unfair treatment a great deal, as he received a lot of hate mail that threatened his life.
He got through it and ended up hitting 755 home runs in a respectable manner, and a way that the great majority of people thought Rodriguez would do it.
This, we thought, would finally bring the beginning to the end to what people were calling the steroid era, with some of the top players, such as Barry Bonds, Roger Clemens, Rafael Palmeiro, Gary Sheffield, Mark McGwire, and even a few of his Yankee teammates, Andy Pettitte and Jason Giambi, have been either accused or admitted to taking performance enhancers.
Rodriguez has been one of the very few players who has had a lot of success throughout his entire career. He started with the Seattle Mariners as a shortstop and looked from the get-go that he was going to be something special.
In his rookie season he put up 36 homers and 123 RBI, which are numbers that many veterans players wish they could put up just once in their career. He played there until 2001, when he signed the biggest contract in baseball history with the Texas Rangers.
This is when he stated that he started using steroids and his numbers really started to increase. Rodriguez hit 156 home runs during his three years with the Rangers, compared to hitting 125 in his final three seasons with the Mariners.
A lot of combinations helped Alex Rodriguez better numbers that would not be obvious to someone who does not follow Major League baseball.
Since he signed as a free agent with the Rangers, it gave him the opportunity to play in one of the friendliest ballparks in all of baseball, The Ballpark in Arlington, for half of the season.
Another thing is, he was starting to come into the prime of his career, as he was ages 25 through 27 during his big seasons in Texas.
He also played in many more games—he only missed one during his three seasons in Arlington—than he had in his previous seasons with the Mariners.
The players in professional baseball took steroids mostly for increased muscle mass and a faster recovery rate—because in MLB, they play a 162-game schedule in just six months.
This causes the professional players to have a lot of nagging injuries and go into slumps that seem like they can last an eternity for both the fans and the players.
The slumps might also be something that could cause a player to make the mistake of using steroids, because they could possibly press and feel that they need to do it, or else people will be disappointed in them.
The problem is that, if they try to let steroids solve their problems, things like what has came out on Alex Rodriguez can come out, and ruin their reputation for good, and make people think that if they are having success they must be on something.
They also are on the road for half of the season, which could make it difficult on players, as they sometimes can not see their friends and families for an extended amount of time.
So even though players like Alex Rodriguez make the big money, there are definitely a lot of negatives that people might not think about, such as not being able to see their kids grow up or just being home sick in general.
Steroids are defined as a group of powerful compounds that are closely related to testosterone. The problem with them is that they have many long-term effects that could matter more than just a bat and a ball.
Some of the long-term effects steroids can have on the body include a weakened immune system and an increased risk of developing liver damager or cancer.
So the players who are on steroids might see a big difference right away, but it might be something they regret later on in life, as it could cause them a problem that makes their life not seem so great, or could even cause death.
The brand of steroids Alex Rodriguez tested positive for is called Primobolan. The Yankee third baseman isn't the first player allegedly testing positive for Primobolan; Barry Bonds did in 2000.
What makes Primobolan different than most steroids is its ability to improve strength and build muscle with minimal bulk development, and that is exactly why many people did not accuse Rodriguez as a user prior to recent developments.
Alex Rodriguez is no stranger of being the center of attention in the media, as he has played in the biggest market in professional baseball, New York, since 2004.
He has heard lots of boos in New York, especially with the struggles he has experienced in the postseason.
Rodriguez has a .159 postseason average since the meltdown the Yankees had in the 2004 American League Championship Series, but this year he will feel a much different pressure, as now he will have to face the pressure of putting up the numbers so people might forget about his steroids admittance a little bit.
He will have a little bit of a disadvantage when considering that, just as it seemed Rodriguez's luck could not get worse, he had to undergo surgery to repair a torn labrum in his hip, keeping him out until at least May 1.
For Alex Rodriguez to change the opinion of his fans he will have to get healthy quick, and have the same type of success he has had in his past. The key will be for him to change the way people are looking at him by using good public relations.
Ways he could do this is by talking to the media, and even kids, about his past and what he has learned from taking steroids.
Him actually coming out should actually work in his favor long-term, as he has been honest and might even cause him some relief on not having to worry about hiding it, but a little bit of his trustworthiness will be tarnished, because his whole career he had stated that he was clean.
He even told Katie Couric from 60 Minutes in an interview last year that he has never been tempted to use performance-enhancing drugs.
While the steroid issue has been a mess for all of major league baseball, it just shows that the professional athletes are human and lie and fall for temptation.
It is just that they have more expected out of them, and Alex Rodriguez is just another one of them who has made a mistake that will be with him for the rest of his life.