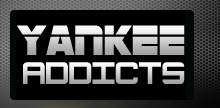 October 13, 2011 · Kyle Vassalo · Jump to comments
Article Source: Bleacher Report - New York Yankees
The baseball gods are smiling upon Alex Rodriguez. It appears as though he's landed the perfect woman, one who will help him on and off the field.
Ella Magers was seen leaving the Rodriguez residence, according to the New York Post. Yankees fans should be jumping up and down for joy, rather than worrying about the superstar becoming even more distracted.
She's a kickboxer, a fitness freak, a life coach and to top it all off, she's a perfect 10. She's the total package and the sort of girl who can keep Rodriguez focused, maybe enough to actually show up when the Yankees need him.
It's all about peace of body and peace of mind, right? The new girl takes care of two birds with one stone. If there is anyone who can "fix" Rodriguez, she's it.
It's unfair to assume that the two are running down any aisles, but the fact that they are even interacting with one another is terrific for Rodriguez. If he's going to become involved with anyone, Magers is an ideal candidate.
It's possible that she's working with him on a professional level, but with a repertoire of exes that includes Madonna and Cameron Diaz, assuming he could land a suitor of Magers' caliber is hardly out of the question.
It's hard to imagine a better catch for a professional athlete. We've seen A-Rod with hot fitness enthusiasts in the past, but Majors takes it to a completely different level. While she brings a lot to the table physically (in just about every sense of the word) it's her mental prowess that really sets her apart.
Perhaps Rodriguez can find happiness off the field, and a newly found focus on it.

Read more New York Yankees news on BleacherReport.com