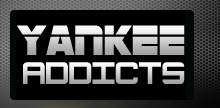 December 28, 2011 · Donald Wood · Jump to comments
Article Source: Bleacher Report - New York Yankees
The New York Yankees are hoping that All-Star third baseman Alex Rodriguez's offseason activities will actually help the team this offseason instead of setting them back, like usual.
Rodriguez went to Germany for experimental surgery.
Apparently A-Rod has been taking life advice from superstar NBA player Kobe Bryant about some controversial new medical procedures to keep his body healthy longer.
Yankees management and fans should be shouting to the hills about how great this move will be if the slugging infielder can regain some of the power and consistency he had during his younger days.
Fox Sports is reporting about Alex Rodriguez's new treatment and how he found out about it:
According to multiple sources, the Yankees third baseman recently followed a recommendation from Bryant, the Los Angeles Lakers star, and traveled to Germany for an experimental therapy called Orthokine on his bothersome right knee.
While Rodriguez was one of the greatest to ever play the game, his production has slipped over the last few seasons and his health has been deteriorating. The hope from his camp and the Yankees is that it will add life to his aging body like it did Bryant's in the NBA.
More strength in his knee will allow Rodriguez to drive the ball effectively again and add even more pop to a lineup that is never lacking for offensive prowess.
If the treatment works effectively, you may see an influx of stars rushing to other countries to get medical procedures done. If that happens, expect the FDA to put the rush on the testing of these treatments so they do not miss out on the financial gold mine.
Now if only the Yankees could get A-Rod to stop being such a playboy and concentrate on his fielding and hitting.
Check back for more on the Major League Baseball as it comes, and check out Bleacher Report's MLB Page to get your fill of all things baseball.
Read more New York Yankees news on BleacherReport.com