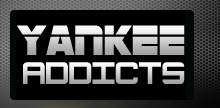 October 21, 2011 · Matt Faulconer · Jump to comments
Article Source: Bleacher Report - New York Yankees
The New York Post should be ashamed of itself.
Their latest issue was disgraceful, lacking in taste, and completely uncalled for at this juncture. New York Yankees star Alex Rodriguez did absolutely nothing to deserve this backlash.
The big news coming out of international media yesterday was that Moammar Khadafy was captured and killed by Libyan rebels.
The former dictator was beaten and apparently tortured to death by rebels during his final moments. At one point, he was seen to be begging for his life according to the San Francisco Chronicle.
Whether Khadafy deserved to die for what he did is a matter of opinion, but the New York Post proved how classless they were by using the death to take a jab with this photo courtesy of Darren Rovell.
So what if it was a New York Yankees fan that helped to bring down Khadafy, there is no need to associate A-Rod with this. To joke about any kind of death of this sort is utterly lacking in taste.
At 36 years of age, what are we supposed to expect from Rodriguez?
There are many who will argue that he simply hasn't lived up to his contract, or that he he fails in clutch situations. In all honesty, these people are right.
He has been a huge disappointment in the postseason, and has batted over .300 just three times since joining the Bronx Bombers before the 2004 season.
Hate on A-Rod all you want in the sports section, but associating the Yankees star with Khadafy's death by using a supposedly clever jest is outrageous and completely unacceptable.
Rodriguez is washed up—he's not a player worth $275 million anymore, but the Yankees should have known that when they bought him.
He didn't even bat over .300 his last season with the Texas Rangers. This franchise has no one to blame but themselves for bringing in A-Rod. Stop blaming the third baseman for being the same player he was before he landed with the Yankees.
He is the scapegoat that everyone loves to hate. You can continue to blame him, but in the end, it's not his fault the Yankees didn't win the World Series.
Read more New York Yankees news on BleacherReport.com